Highlights of Thai Social Media 2017
It's been an anxious year for Thai social media. Turning on the internet has meant numbing threats of thermonuclear war, heartbreaking mass murders, global political instability and no end to stories of the abuse and injustice experienced by women.
But the internet also delivered moments of delight. From animated politicos working up a sweat to bizarre soi stunts, there were moments of joy that could only have come from Thai netizens. So thank you, Thainet, and please keep it up for 2018.
1Here Are 7 GIFS of Prayuth's Workout Moves. Happy Friday.
Have you seen the Attitude Adjusters or Article 44s in action? After Gen. Prayuth dictated mandatory Wednesday workout sessions for government employees, he really got into his role as exerciser-in-chief, with the media providing blow-by-blow coverage of the action.
2'Soi Diver' is Flooding Our Hearts With Joy Today (Video)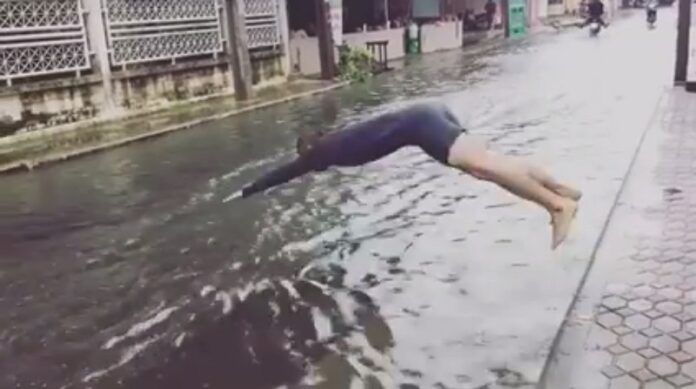 Facebook user Ui Ratchasit Ketkeaw dives into a flooded Bangkok street Tuesday.
Bangkok got a small taste in May of the flood misery which devastated much of the nation this year. Where most city folk saw inconvenience and hazard, one resident saw an Olympic-sized opportunity.
3Absurd News Parody Brings Smiles to Flood-Ravaged South (Photos)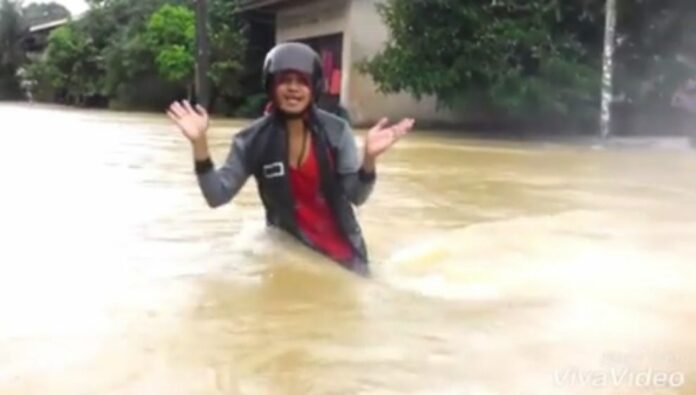 Abdulhakim Kasing risks rapid floodwaters to deliver his take on the situation on the ground in Narathiwat province. Image: Abdulhakim Kasing / Facebook
Maybe it was the sheer scope of the flooding that made people just lose it a little. Down south in Narathiwat, an intrepid Facebooker found a way to turn the murk into mirth by filming a parody video of a disaster news report that went viral.
4Thainet Flips Out Over Headbanging Bird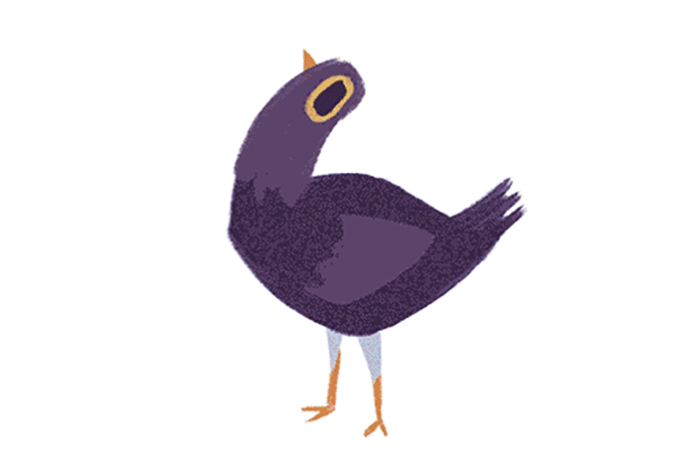 This head-bobbing pigeon from Syd Weiler's Trash Doves Facebook sticker set has gone viral in Thailand since its Feb. 1 release.
Remember the purple bird sticker spamming every comment thread? Still see it, head-banging with abandon?
In February, the Thai net became obsessed with a Facebook sticker drawn by an American artist of a purple pigeon, particularly one in which it thrashes its head. Was the bird in agony or ecstasy?
We still don't know.
5Cute Thai Cat Photos Spam Internet on 'World Cat Day'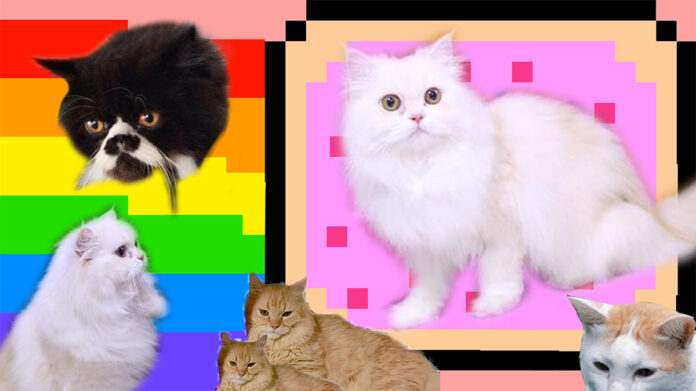 Under all the tubes and chutes and ladders, the foundations of the internet are built on cat – cute cats, specifically. For World Cat Day on Aug. 8, Thai netizens built upon that foundation with adorable pics of their own fur-friends.
6Bare Aggression: Baldies Do Battle the Old Way (Video)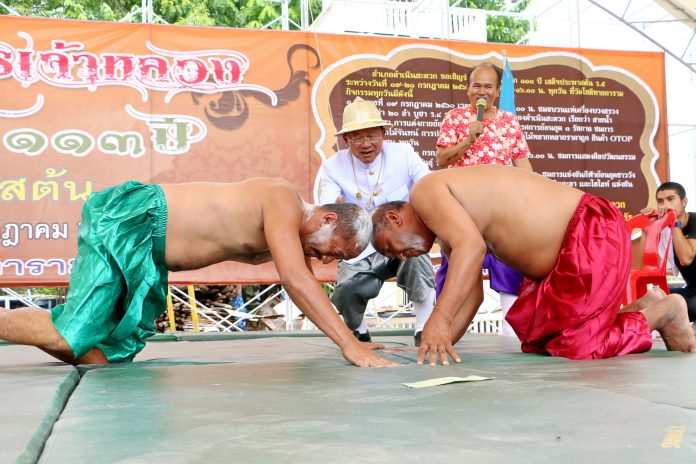 Two bald contestants battle it out.
Mid-July in Ratchaburi province, things get hot. Hot enough for it to be a totally normal thing for bald men to powder their egg-tops and wrestle for the glory of being named "Mr. Baldy of Damnoen Saduak." The annual wrestling match lends a fun splash of provincial color.
Source: Khaosod
Please follow and like us: