Toon Bodyslam receives support from Olympic and World Champion runner Mo Farah
Thai Rockstar, Toon Bodyslam, receives huge boost from British Olympic and World gold medal holder, Mo Farah, as he continues his epic run for charity.
A British Olympic gold medallist sent his well-wishes to a Thai rockstar running a cross-country marathon to raise money for local hospitals Saturday afternoon.
On the eleventh day of Artiwara "Toon Bodyslam" Kongmalai's 2,191-kilometer charity run from Yala to Chiang Rai, Olympic runner Mohamed Muktar Jama Farah, or Mo Farah, sent the Thai rocker his encouragement, to the praise of netizens.
"Keep running @artiwara. Leave all your records behind. The next step is a new start. #breakthrough #break2191k," wrote Farah on his Facebook page, accompanied by a photo of him holding a shoe with "To Toon Keep on running!" written on it.
Thai netizens, already on the edge of their seats since Artiwara started running on Nov. 1, welcomed Farah's comments with open arms.
"As a Thai, I humbly thank you for recognizing this simple and brave project. I am sure this post will help boost up the awareness of this project much more," commented Gong Love Octains in English.
Facebooker Somkiat Rangkla, who said that he was the only Thai engineer working on the London 2012 Olympics Park and saw Farah win the gold medal back then, pitched an invitation to the runner.
"Today, you've shown a great spirit and support to our hero (Toon) who dedicated his time and effort raising the fund for the hospitals. Why don't you come to Thailand and joining Toon? [sic] To show the world that there is no boundary or any obstacle if we want to achieve something extraordinary together," Somkiat wrote.
So far, Artiwara has run more than 408 kilometres in 11 days from Yala to Nakhon Si Thammarat and raised more than 171 million baht for public hospitals across the country. Sunday, he is set to run from 4:30am to 8pm through the latter province. The run is set to finish on Christmas Day in Chiang Rai's northernmost point.
Farah won four Olympic gold medals – two a piece at the 2012 and 2016 games – six athletics World Championship medals and eight European Athletics Championships medals. Somali-born, he is the most decorated British track athlete in history.
Donations for Artiwara's run can be made by messaging "T" to 4545099, transferring money to the charity's account 111-393-5263, via PromptPay to 0994000005261 or at any 7-Eleven store.
His progress can be followed through charity Facebook page Kao Kon La Kao.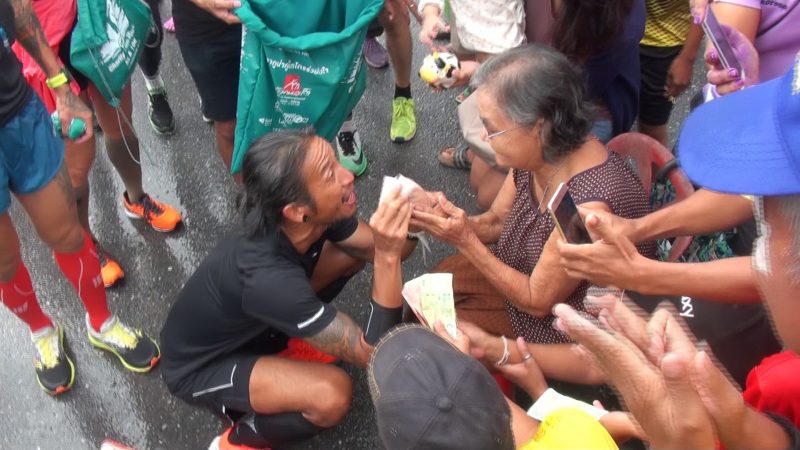 Source: Khaosod
Please follow and like us: