At least nine people have been killed after a five-storey building being demolished in South Korea collapsed on to a bus, officials said.
Eight people were injured in the collapse, which happened in the southern city of Gwangju.
The bus was carrying 17 people and had stopped on a street below, the National Fire Agency said.
The reason for the collapse is not yet clear and search efforts are under way for survivors who may be trapped.
All workers on the site had evacuated before the building collapsed, fire officer Kim Seok-sun said in a televised briefing.
Some of the workers told investigators they had shut off a pedestrian path near the site before the collapse, he added.
Videos uploaded to social media showed that the building collapsed directly on to the bus.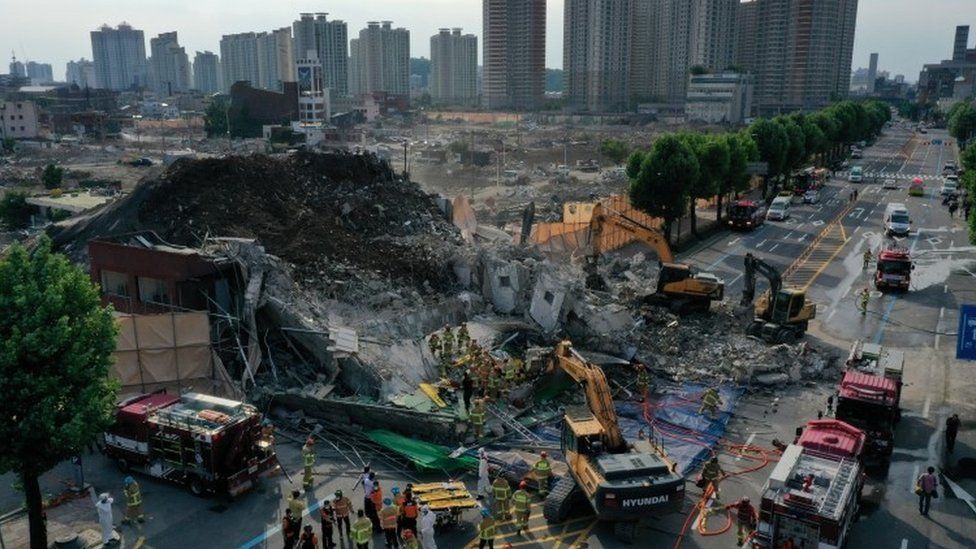 Yang Ik-je, who runs a shop across the street from the collapsed building, told Yonhap news agency it felt like "the earth was shaking".
"I could not see the road clearly, as if it were shrouded in thick fog," he said. "I checked the CCTV to find out that the building collapsed on to a bus."
One of the world's worst peacetime building collapses happened in South Korea in June 1995, when Seoul's Sampoong Department Store collapsed, killing more than 500 people.
bbc
Please follow and like us: