Horror smash leaves student on respirator
A university student who gained fame for taking a summer job as a mall guard was in serious condition and breathing through a respirator Friday following a road accident in northern metro Bangkok.
Wanladar "June" Kantaponjaruntorn, 21, suffered serious injuries when her classmate crashed into an 18-wheeler at 1am on Wednesday in Pathum Thani's Thanyaburi district. She was admitted to the ICU unit at Thammasat University Hospital and remained there until yesterday.
"I'm so worried about my daughter, I haven't eaten. I don't know what to do. Her mother is crying every day to see her so hurt," Wanladar's father Thananrat said to reporters Wednesday. "She can hold up fingers but can't talk yet."
In June, her story went viral online when she took a summer job as a security guard at Future Park Rangsit.
The driver of the Yaris, a male classmate, suffered mild injuries. Doctors say Wanladar is suffering from cerebral edema, or brain trauma, and is breathing with the help of a respirator.
Thanarat said Wanladar and her friends had been studying together and the classmate was taking her home when the 18-wheeler allegedly cut in front of the Yaris. He said Wanladar's vehicle tried to swerve out of the way but collided with the 18-wheeler, injuring his daughter.
Col. Ariya Panfak of Pratunam Chulalongkorn police said that their investigation found the truck driver was indeed attempting a U-turn when the Yaris crashed into him.
Wanladar's father, Thananrat Kantaponjaruntorn, faulted police for being slow to act and was dissatisfied with their investigation.
"So far we haven't been treated justly. The investigators haven't cooperated, and they didn't take the injured's statement yet. All they did was talk to the truck driver, who said that he U-turned when he saw the car my daughter was in coming from afar," Thanarat said Thursday, adding that he thought the truck driver was at fault.
Lt. Gen. Suwat Jaengyotsuk. Commander of Division 1 Regional Police, said Thursday that Pathum Thani police would investigate the crash further and bring both sides in to talk.
Wanladar is a third-year economics student at Bangkok University. She gained online fame in June when she took a summer job as a mall cop, when most Bangkokian university students take internships at companies or summer classes.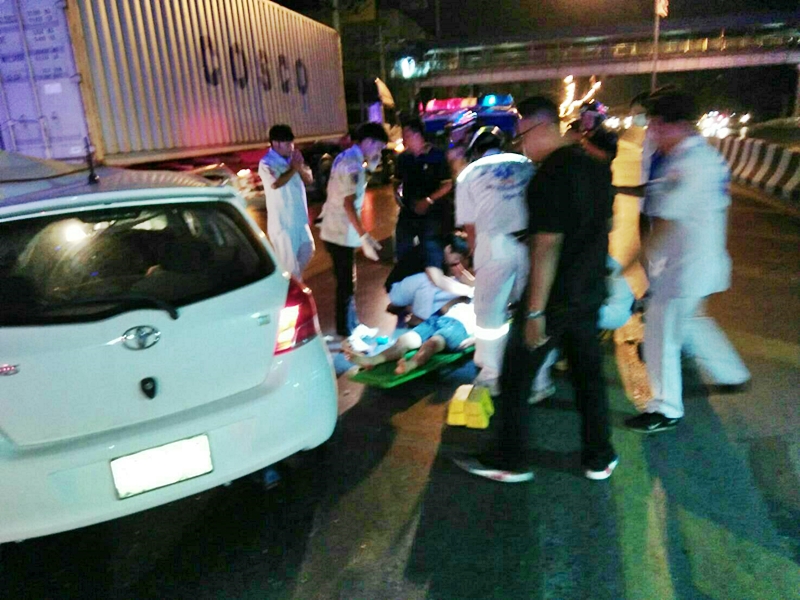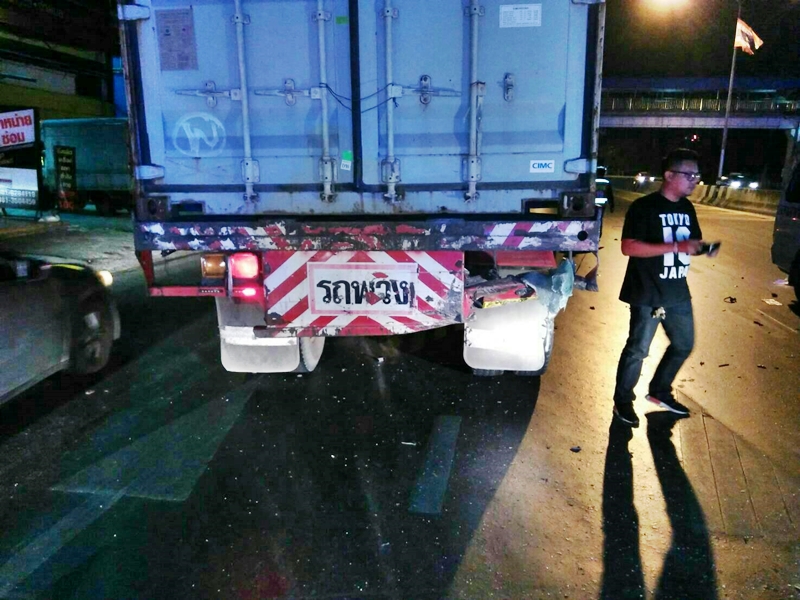 Source: Khaosod
Please follow and like us: