Credit card giants Visa, Mastercard and Discover have blocked all payments to Pornhub, after the adult site was accused of being "infested" with child abuse and rape-related videos.
However, sex workers are saying that the sudden decision has put their livelihoods at risk, and will not solve the problem of illegal content.
Adult performer Mary Moody has started a campaign to raise awareness on the consequence for performers like her.
"I personally stand to lose thousands each month, but I want to spotlight the many workers who will be losing the income they rely on for survival, especially during the pandemic," she said.
A New York Times article by Nicholas Kristof highlighted the presence of illegal content on Pornhub. He called on banks and credit card companies to suspend co-operation with the site as a consequence.
The article prompted card companies to carry out their own investigations and eventually block payments to the site.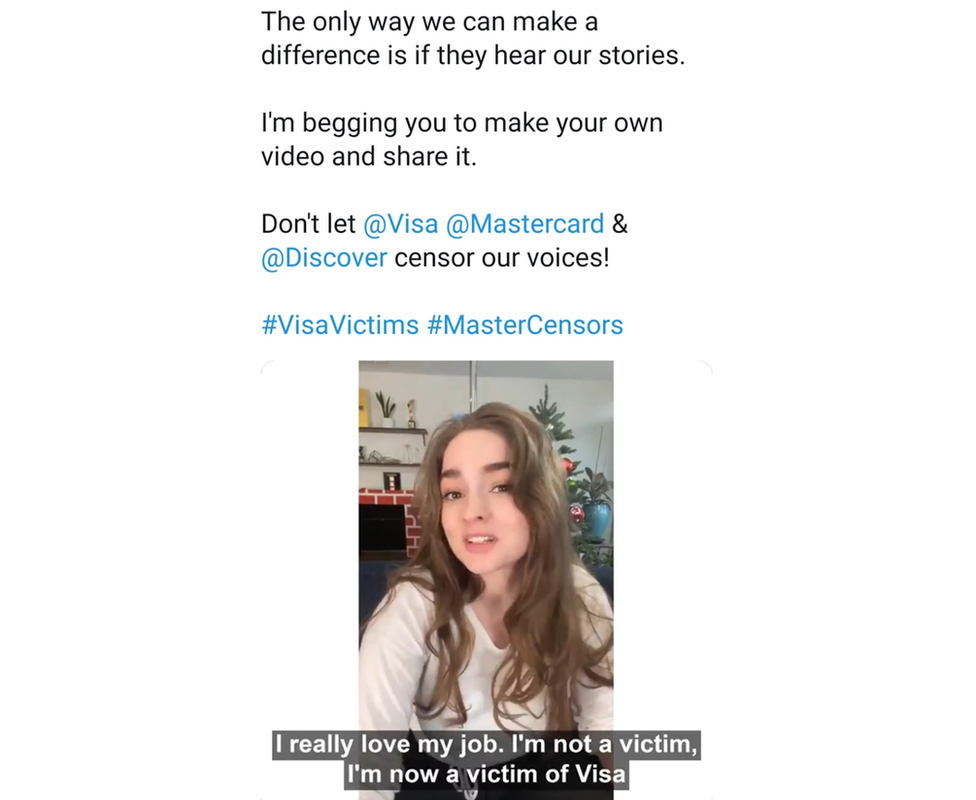 In response, Pornhub made drastic changes. It banned downloads and deleted all videos, except those uploaded by verified users.
Adult performers and producers had been campaigning for these features for years.
The ability for any user to freely download and upload content had made it possible for pirated, stolen and illegal videos to proliferate, while also making sales of original content more difficult.
Now only verified creators can upload videos to Pornhub.
But the credit card suspension also makes it almost impossible for performers to receive payments or tips on the website.
"Pornhub is the largest platform we have access to, by number of viewers and name recognition," said Ms Moody.
"It comes at the top of Google searches for pretty much any industry worker."
Many performers also use other adult platforms and subscription sites, such as OnlyFans.
But Ms Moody said making the jump was more difficult than it might appear to outsiders.
"Models who focused on Pornhub are out of a lot of income, and it's not as easy as it sounds to switch platforms and immediately make money."
'Feeling helpless'
Swedish performer Cara Vega said: "I've made $34 (£25) in Pornhub in December, which is not a lot.
"There's not a lot you can do about it, which makes you feel really helpless. I have friends who are considering leaving the business as a whole, just because Pornhub was such a big source of income."
The sudden and unexpected change has been an additional source of stress for performers, who have often spent months or years building up a following.
"We didn't have time to prepare for it or to set money aside to pay rent the next month or anything like that," said Ms Vega.
"Visa and MasterCard acted in a very irresponsible way, leaving people without income overnight."
Digital rights group Electronic Frontier Foundation has also complained about the firms exercising "censorship powers". It said this was similar to how they had earlier tried to cut off payments to "countless sex workers" and Wikileaks, among others.
"Any website or individual can find itself running foul of Visa and Mastercard's moral sensibilities," it blogged in December.
Some of the adult performers share this concern.
"I'm worrying that the same thing will happen to other platforms," says June Liu, the third-highest ranked model on Pornhub's section for independent creators.
But in a recent interview with a New York Times podcast, Mastercard's chief executive insisted that the decision had nothing to do with morals and was based solely on legal concerns.
And, in a statement on Twitter, Visa said: "Given the allegations of illegal activity, Visa is suspending Pornhub's acceptance privileges pending the completion of our ongoing investigation.
"At Visa, we are vigilant in our efforts to stamp out illegal activity on our network, and we encourage our financial institution partners to regularly review their merchants' compliance of our standards on this and other platforms."
Sex workers argue that the freeze won't affect abusers and criminals who uploaded illegal content, as only certified creators could sell videos.
"Why should Visa or Mastercard decide that a person can't spend their money on something that's completely legal?" said adult performer and sex workers' rights activist Ginger Banks.
Sex workers often feel discriminated against by financial institutions, because working in the sex industry makes it difficult to access services and incurs higher fees.
"I genuinely hope crypto-currency makes them irrelevant," said Ms Banks.
Pornhub does still accept payments via Bitcoin.
'Religiously motivated'
"The credit card block is the result of the campaigning by religiously-motivated groups like Exodus Cry," claimed adult performer Valentina Nappi.
"The real target of these groups is not to help victims or fight illegal content on the internet, but to ban all forms of adult material."
Traffickinghub, the biggest campaign against Pornhub, is led by Exodus Cry, a Christian group dedicated to abolishing all forms of sex work.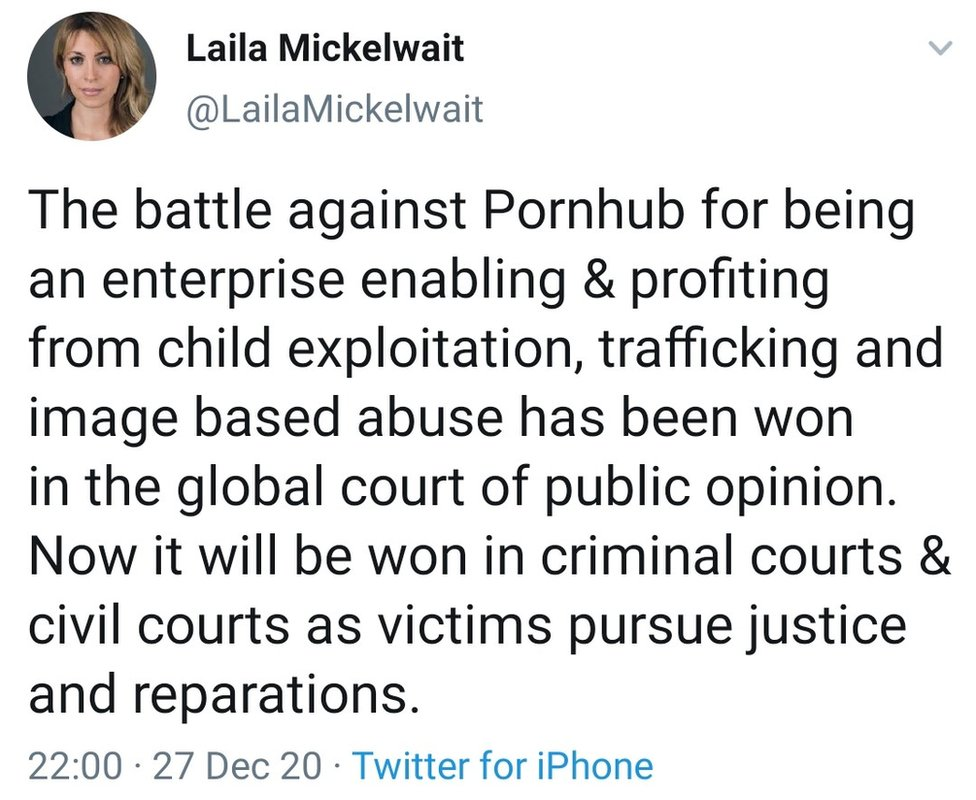 The campaign says that Pornhub is consciously complicit in abuse, trafficking and violence, by profiting from the illegal content hosted on the site. It should be therefore "shut down" and held accountable.
There have been several reported examples of Pornhub being slow to remove illegal or contested content, as documented by this BBC investigation last year.
"Unverified users are now banned from uploading content – a policy no other platform has put in place, including Facebook, which reported 84 million instances of child sexual abuse material over the last three years," said Pornhub in a statement.
"In comparison, the Internet Watch Foundation reported 118 incidents on Pornhub over the last three years."
Sex workers and adult sites argue that the issue with illegal and abusive material affects all platforms allowing users to upload content, including social media.
"I have called the Swedish authorities five times in the last couple of months, because I've seen child porn on Reddit," said Ms Vega.
"Removing the ability for people to purchase ethically-made good porn from independent creators doesn't have any positive effect."
bbc mhd
Please follow and like us: