Actor Vin Diesel can remember what his life was like before the first Fast & Furious film was released two decades ago.
"I'll never forget being at an airport in Mexico, the movie hadn't come out yet, it was maybe April of 2001," he recalls.
"Paul [Walker, his co-star] and I were sitting on the floor, with our bags to the side, about to board a commercial flight back home. We had just flown down there for the MTV Spring Break thing.
"And I remember him leaning over to me and saying, 'Take all of this in, take in the fact that people are walking over our legs, almost kicking our bags and not paying any attention to us'. I said, 'Why?' And he said, 'Because after this film comes out, there too will go our anonymity'."
Walker, who tragically died in a car accident in 2013, was right.
The release of The Fast and the Furious would not only accelerate the careers of its stars, it would also launch one of the most profitable franchises in Hollywood history.
Set in Los Angeles, the original movie centred on the world of illegal street racing.
It introduced the world to Dominic Toretto (Diesel), the leader of a criminal heist group that LAPD officer Brian O'Conner (Walker) tries to infiltrate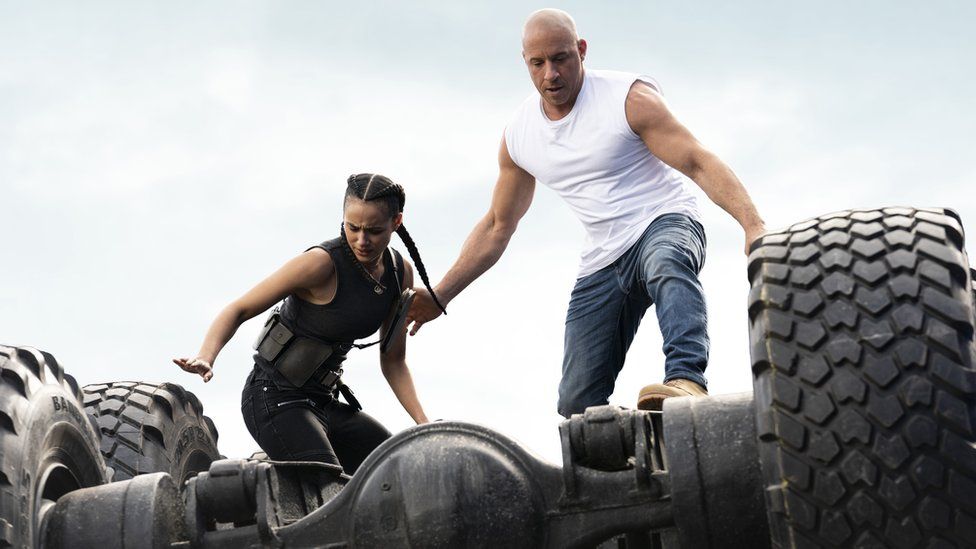 Since then, the franchise has grown more ambitious across its eight sequels, with action sequences more closely resembling the globe-trotting Mission: Impossible films.
The widening scope of the movies means the plot lines and car chases have become increasingly imaginative, and audiences have kept coming back for more.
It's worth breaking down some of the numbers:
Every Fast & Furious film has made at least $200m (£144m) at box offices worldwide, and six made more than $500m (£360m)
The most successful movie (Furious 7, which took $1.5bn/£1.08bn) made more money worldwide than the most successful James Bond movie (Skyfall, $1.1bn/£790m)
Including the spin-off Fast & Furious: Hobbs and Shaw, the franchise has so far grossed more than $6.1bn in total
When the pandemic hit and films began being delayed, most headlines focused on the fate of next James Bond film, No Time To Die.
But arguably, the ninth Fast & Furious film was an equally significant loss to the global box office.
Both films declined to move to streaming platforms, partly to protect their financial potential, but also to make sure fans could experience the breathtaking action sequences as they had been intended, on the big screen
Actor Tyrese Gibson, who returns to the franchise for F9: The Fast Saga, says: "We're heavily relying on the fans and supporters to be able to help us make the statement we all want to make, which is, yes it's very easy to go straight to streaming, but there are certain movies that really belong in theatres, and this is one of them."
It's hard to argue when you see F9. The film bounces around the world (action sequence locations include London and Edinburgh) and for the first time also sends two characters into space in an effort to destroy a satellite.
In case you're wondering, the fictional characters are aware of how absurd some of their own escapades are, and in the latest film the group even discuss how strange it is that they always escape dangerous situations unharmed.
F9 sees the crew come together to stop a world-shattering plot by Dom's estranged brother Jakob (played by John Cena), who happens to be the the most skilled assassin and high-performance driver they've ever encountered.
The film also features appearances from Charlize Theron, Cardi B and Dame Helen Mirren.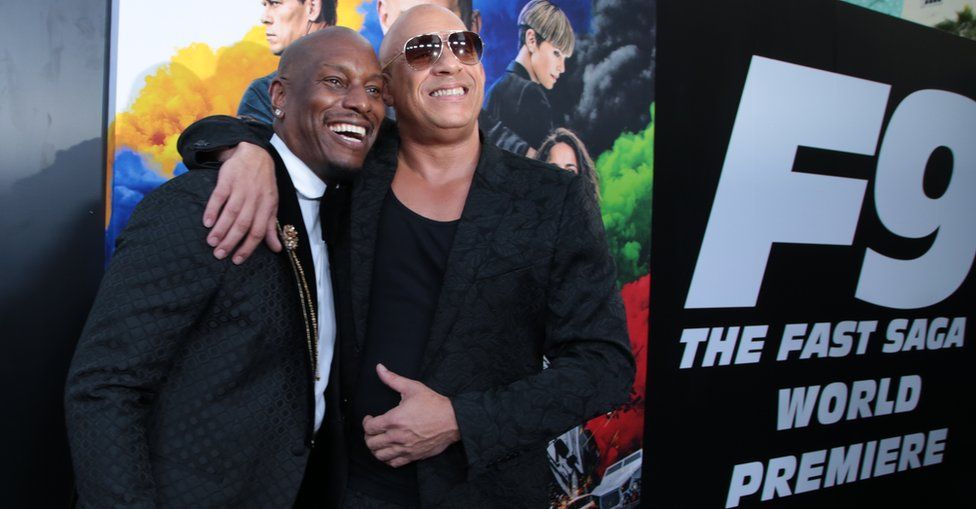 Justin Lin is the director most closely associated with the franchise – this is his fifth time in the chair. He has shown he can be trusted with the films' enormous budgets, but he must also feel huge pressure, almost as if he's in competition with himself and forced to go bigger and better each time.
"I don't know if I think of it in those terms," he tells us. "I don't think I'd be coming back to do the fifth one if it was the same thing over and over.
"We made a commitment early on. If we were lucky enough to earn another chapter, let's not just do the same thing, let's try to really grow and evolve.
And since then, it's 15 years for me, you've seen our characters get together, start families, now they have kids, and that's something that drives me more."
That will reassure those who think a nine-film franchise can't possibly offer anything new. "I came back because there was something new," Lin says. "Our characters are growing.
Some of our characters are having existential crises. I think all those things are appropriate to where we are, and where these characters are in their lives."
He adds: "We're 20 years in, and to be able to explore this theme of family, but through blood, which is something that we'd never done before, I felt it was worth coming back for.
Because to do that, I felt like we got to take a breather and explore the origin of this mythology, and solidify it in a certain way."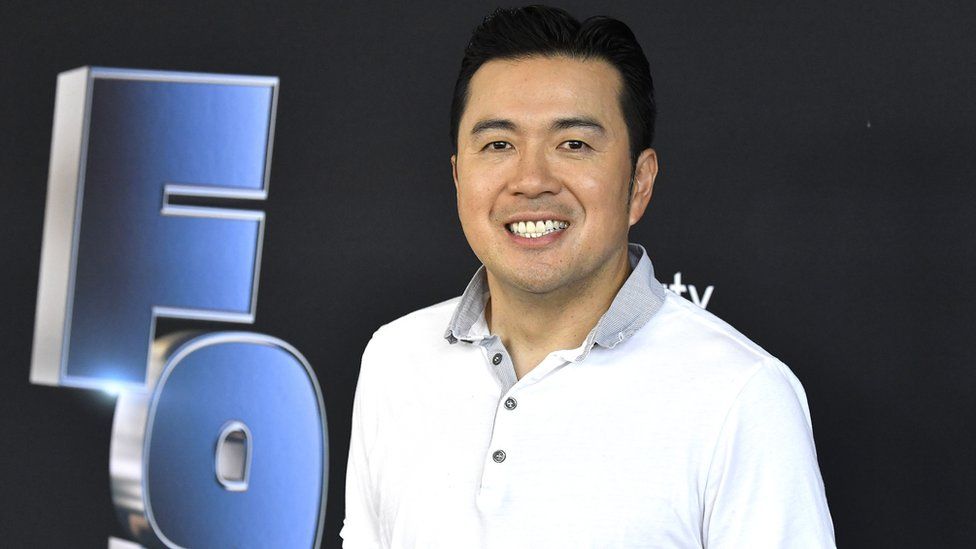 Lin's direction of Fast & Furious 9 has come in for praise. "Just because the Fast & Furious movies are dumb, don't assume that they're easy to make; a host of soulless rip-offs demonstrate that these productions require a great deal of skill and a certain kind of light touch," The Wrap's Alonso Duralde wrote.
"For audiences who want their 2021 return to the multiplex to deliver big, loud, exciting action, F9 makes the cars go fast, jump high, and generally do the impossible.
It's exhilaratingly ridiculous, yes, but it's also ridiculously exhilarating."
Another critic, Tim Grierson of Screen Daily, also praised the film, but said viewers may feel the film-makers are running out of ideas.
"Gloriously ludicrous and stridently melodramatic, F9 is fuelled by its own goofy energy, delivering comically grandiose chase sequences and shameless fan service all in the name of giving audiences an uncomplicated good time," he said.
But he added: "As fast and furious as F9 races along, it can't quite outrun the impression that these films are losing some of their freshness."
Gibson rejects the suggestion that the franchise is past its peak. "You can't say that this is luck," he says. "You can't say that this franchise has had it's moment and it's over, it just continues to reinvent itself."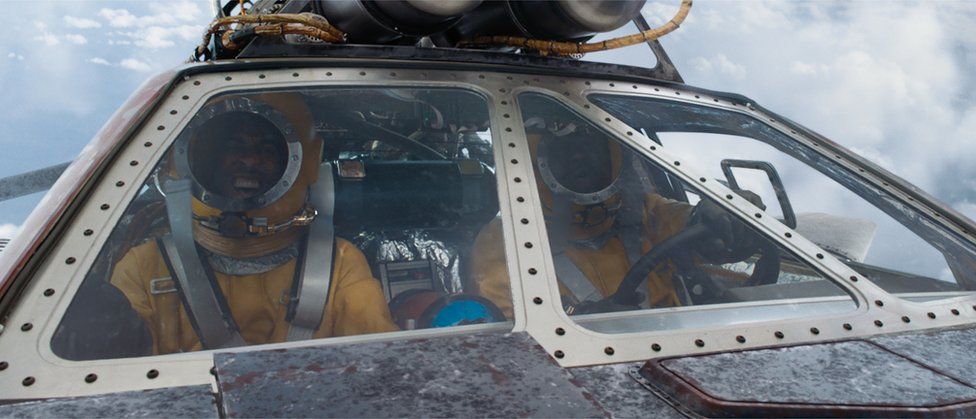 Fast & Furious has two more instalments planned, with the 11th film set to be the last in the series. It's possible, of course, that the universe will continue in other forms. For example, Hobbs and Shaw are likely to get a sequel at some point.
But the the film-makers are calling time on the main strand.
"We can't always feel like we're going to go on forever," says Lin. "With the Saga, I feel like it's the right choice, the right move.
"But because of our journey, there have been all of those characters that have joined us in the universe.
Even working on Fast 9, I felt like I had four scripts. I was trying to figure out Han [played by Sung Kang], which was almost a movie in itself.
"And that just tells me that I think there's a lot more to be had.
But for Dom, the family and the Saga, it deserves an ending.
And the sense of finality is very appealing to me personally.
It probably would be good for everybody."
bbc
Please follow and like us: