Australia says it has raised "grossly disturbing" reports with Qatar that women were strip-searched and examined before a flight from Doha to Sydney.
The women were checked for signs of having recently given birth after a newborn baby was found abandoned in a toilet at Hamad International Airport.
The unidentified baby has been cared for since being found on 2 October.
The searches came to light when Australian women spoke out. Women from other countries were also examined.
All adult women on the Qatar Airways flight were required to disembark to be body-searched, two of the women told the Australian Broadcasting Corporation (ABC).
Thirteen Australian women were taken to an ambulance on the tarmac and told to remove their underwear before being examined, reports said.
Kim Mills told the Guardian she was among those taken off the flight and led into a dark car park, where three ambulances were waiting to perform medical examinations.
However, officials did not subject her to the examination due, she suspected, to her being in her 60s. Even so, she said, the experience was horrifying.
"My legs were just wobbling. I was terrified they were going to take me away somewhere. Why didn't they explain to us what was going on?" she said, adding that airplane staff later told her they didn't know what was happening.
"It was absolutely terrible. I can't imagine what it was like for those poor young girls."
Passengers had boarded the flight before women were told to get off, witnesses told Australian media.
Fellow passenger Wolfgang Babeck told the ABC that he watched as the women re-boarded the flight, noting "many… were upset, one of them was in tears – a younger woman".
Qatar's government is yet to respond to the incident. It is not clear if other flights were also involved.
'Disturbing, offensive, concerning'
The Australian government said reports had indicated the treatment of the women was "beyond circumstances in which the women could give free and informed consent".
When asked by reporters if that constituted sexual assault, Foreign Minister Marise Payne said: "No, I am not suggesting that because I have not seen the detailed report of the events."
She said she had referred the "grossly disturbing, offensive, concerning set of events" to the Australian Federal Police, and that Australia would "determine the next steps" after it received an explanation from Qatari officials.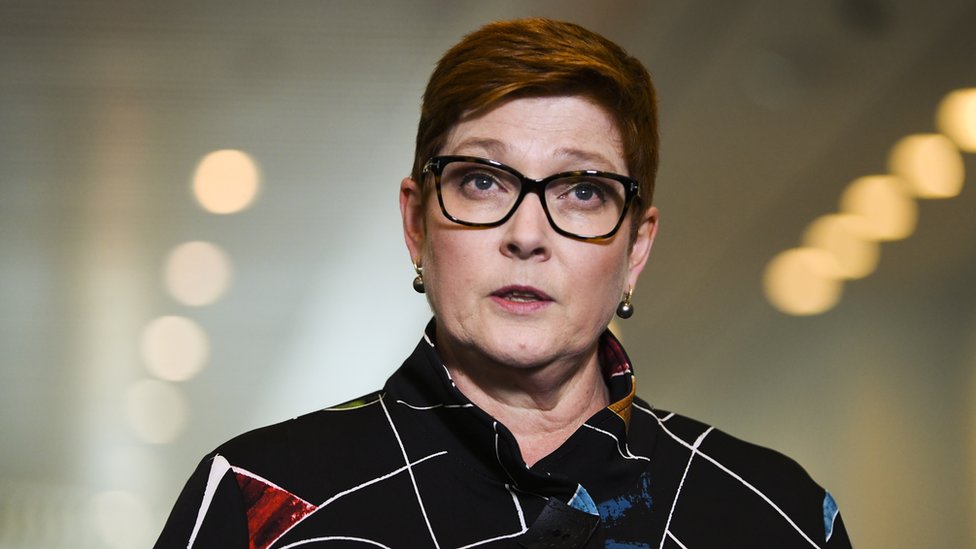 Australia said it had been notified about the incident at the time and had "formally registered our serious concerns".
Hamad International airport did not provide details of the examinations, or the number of women and flights affected.
In a statement the airport said: "Medical professionals expressed concern to officials about the health and welfare of a mother who had just given birth and requested she be located prior to departing.
"Individuals who had access to the specific area of the airport where the newborn infant was found were asked to assist in the query."
Ms Payne said Australian officials had been in touch with the women after they arrived in Sydney and began 14 days of hotel quarantine, a current requirement for all returning travellers.
"They have been provided with appropriate support through the health process during that period," she told reporters in Canberra.
She added: "This is an extraordinary incident and I have never heard of anything occurring like this in my life."
The airport has launched an appeal for the mother to come forward and asked anyone with information to get in touch. The child is being cared for by medical and social workers.
Please follow and like us: