The Thai baht finished in spectacular fashion after a year as one of the world's most stable currencies, when it reached 30.15 baht against the US$, its highest level in six years.
Kasikornbank Bank is forecasting that the Thai baht could move into a range of 30-30.30 baht to the dollar this week (up to January 3).
Investors have been selling USD after US economic data showed signs of disappointments such as weaker-than-expected orders for durable goods and lower new-home sales, finishing off a patchy year in a jittery US economy.
The baht was up 8% over this year after a 2018 closing price of 32.55 baht to the US$.
The Thai baht's appreciation has been driven by Thailand's strong current account surplus and investor sentiment that the baht has been a 'safe-haven' currency.
But the baht's strength has been challenging for the local economy, driving exports down and pushing up prices for tourist spending power.
Thai exporters have complained that the baht's appreciation is hurting exports: recently Japanese car manufacturers Mazda said it might have to move a part of its car-making back to Japan from its Thai factories due to the impact of the strong baht.
The market will be closely watching the Bank of Thailand's economic report for November, which is due to be released on Monday, as well as December's inflation rate.
Meanwhile, key US economic data out this week include the US purchasing managers index, December consumer confidence index, home-purchase contracts, home price index and jobless benefits claims.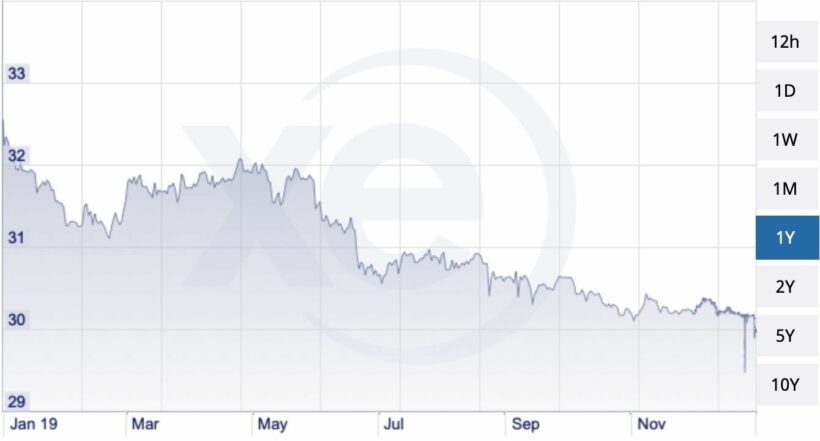 Please follow and like us: