A man on crutches has reached Everest base camp – eight years after waking up paralysed.
Jamie McAnsh, from Cwmbran, Torfaen, has complex regional pain syndrome (CRPS) which causes persistent severe and debilitating pain.
But after an 11-day trek, Jamie has realised his childhood dream and reached base camp at 5,364m (17,600ft).
"There were times on this challenge where I didn't think I was going to make it," he said.
"I was absolutely exhausted. It's been an emotional time," Jamie told BBC Radio Wales Breakfast, adding he "had a bit of a cry".
"It didn't really hit me that I had done it until the next day. I sat on a rock and looked over Everest and the Himalayan mountains and that was the moment it really struck home I'd achieved a lifelong dream."
On 6 January 2014, Jamie went to bed "as normal", but woke up the next morning paralysed from the waist down after rupturing his spine in his sleep.
It took another 13 months for Jamie to be diagnosed with CRPS, which has no cure but often gradually improves over time.
He had to learn to walk again – and after a gruelling recovery he has regained some of his mobility but still relies on crutches to walk.
"One of the hardest things the team had to think about was where to put their feet, because of the altitude everything was so laboured.
"But I had to think about where to put my feet and my crutches, because if my crutches slipped it would be a disaster because i can't put my hands out to fall," he said after completing his Everest challenge.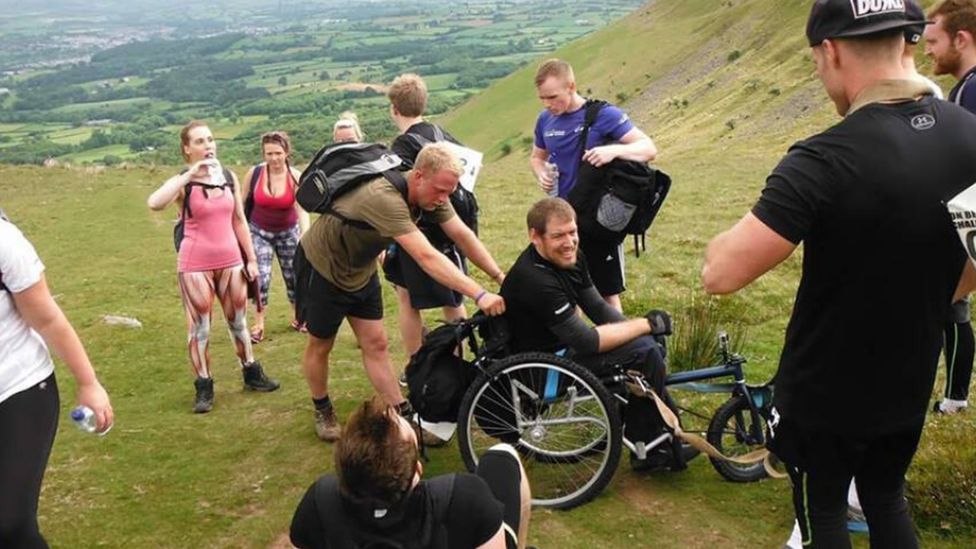 As Jamie reached the mountain's memorial, he stopped to pay tribute to his father and nephew, who have both died.
"I took their memory with me throughout the whole trip and I thought it was a lovely thing to build a memorial cairn which is a pile of rocks, in somewhere that I have thought of for so many years," he said.
Jamie already has his next challenge in his sights, but this one is a bit closer to home.
"I've always loved Everest, but I've always loved Wales, so the 800-mile coastal path is definitely up there on my list," he said.
Please follow and like us: