The government is to trial a series of measures in England, including Covid passports, to allow the safe return of sports matches, events and nightclubs.
Passes would show if a person had been vaccinated, had a recent negative test, or natural immunity.
Trial events in the coming months will also explore how ventilation and testing before and after could help audiences return.
The pilots, which will include the FA Cup final, will last until mid-May.
But some of the listed events will not be trialling vaccination certification, including those taking place in Liverpool, the council has said.
Sports Minister Nigel Huddleston said that the earlier pilots "almost certainly won't involve any element of certification".
He described the trials as a "learning experience" and said the government would also be looking at mitigations such as one way systems and hygiene measures.
Meanwhile, Downing Street has confirmed countries will be in a risk-based "traffic light" system when foreign holidays resume.
The pilots will include the FA Cup semi final and final in London's Wembley Stadium, the World Snooker Championship in Sheffield, a mass participation run at Hatfield House in Hertfordshire, and several events in Liverpool including an evening at a nightclub, a business conference and a cinema screening in the city. The FA Cup final will be using certification.
The first pilot event will be a comedy night in Liverpool on 16 April where audience members will be tested for Covid before and after the show.
Prof Iain Buchan, of the University of Liverpool, will be helping to run testing for the Liverpool-based trials. He told BBC Breakfast taking part would involve "giving your consent to take part when you book a ticket; receiving text messages about hands, face, space, fresh air; minimising unnecessary contacts before the event; getting tested within 36 hours, ideally as close to the event as possible; ideally having a test earlier in the week".
Prof Buchan added: "Don't go on the day if you have any symptoms. All the events will be in very well ventilated places and the ventilation will be studied, and people will be asked to minimise contacts and get another test five days after, for the purpose of research."
News of the trials, particularly Liverpool's nightclub pilot, was welcomed by industry body the Night Time Industries Association.
But NTIA chief executive Michael Kill has called for further trials across a wider scope of businesses in the sector, expressing concern "that this will only give an acute view of the challenges faced within such unique environments where one size does not fit all".

'Covid-status certification'
The NHS is said to be working on a system to allow people to demonstrate their status through an app or paper certificate.
The government said it was also working with clinical and ethical experts on exemptions for people for whom vaccination is not advised and repeat testing would be difficult.
No 10 said it did not want the scheme, which it is describing as "Covid-status certification", to be used on public transport or in essential shops.
Businesses in England which can reopen in the coming weeks, including pubs, restaurants and non-essential retail will not have to use the system for now.
However, sources say requiring a certificate to access hospitality further down the line – perhaps to reduce the need for social distancing – has not been ruled out.
Prime Minister Boris Johnson said the government was "doing everything we can to enable the reopening of our country so people can return to the events, travel and other things they love as safely as possible".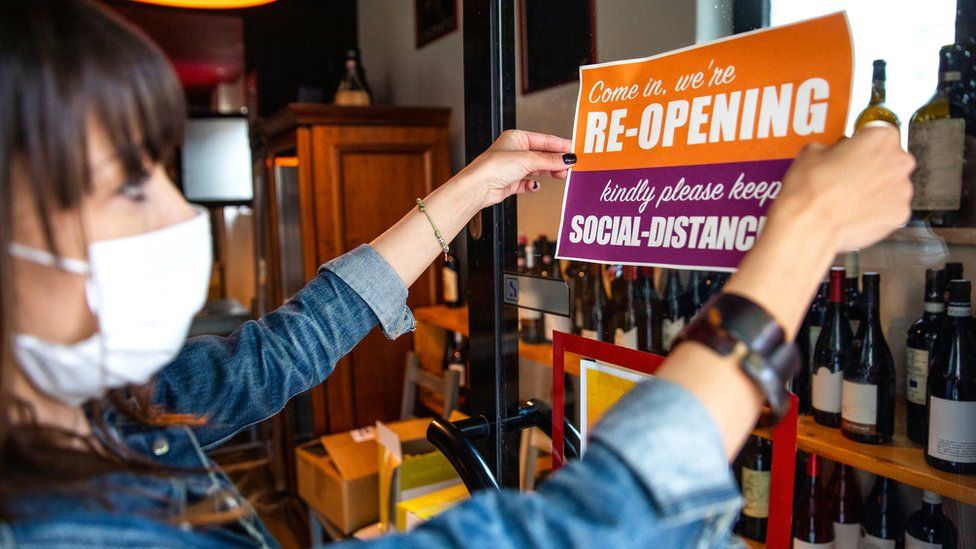 Writing in the Sunday Telegraph, Cabinet Office Minister Michael Gove called certification for international travel an "inevitability", and said it could also be a "valuable aid" in reopening parts of the domestic economy faster.
Mr Gove, who is leading the review into the use of Covid passports, said: "Unless the government takes a lead we risk others establishing the rules of the road. So where should the lines be drawn to help protect freedoms, respect privacy, promote equality and get us back to normality?"
However, critics, including more than 40 Tory MPs and privacy campaigners, have suggested a Covid passport scheme could be "discriminatory and counterproductive".
Labour's Jeremy Corbyn and senior Tory Iain Duncan Smith are among a broad coalition of MPs who have pledged their opposition.
Their concerns have been echoed by leading scientists, including infectious diseases expert Dr Mike Tildesley, who told BBC Breakfast he was "very much against the idea of domestic travel passports at the moment when a lot of people have not been able to have the vaccine and also we know that it's very inconsistent across certain communities".
He added: "I do realise we need some level of security to allow these events to reopen again.
"What we really need though is a fair system that isn't discriminating against certain members of society."
Prof Melinda Mills, director of the Leverhulme Centre for Demographic Science at the University of Oxford, also appeared on the programme, and said there were "still a lot of open questions" about the scheme.
She said: "There's scientific questions, there's logistical questions – how will it work – with an app or a paper version? – and there's real ethical questions as well, too: do I have to pay for the testing if I haven't been vaccinated or had that opportunity?"
The sociologist acknowledged the scheme could work as an incentive for people to get vaccinated, but added that it could also inspire forgery if paper documents are used.
"Once you have forgery you will lose your legitimacy, so it will be really important to understand technically how this will work," Prof Mills said.
While the proposed plans cover England only, the government is discussing the scheme with Scotland, Wales and Northern Ireland.
Under the government's plan to ease England's lockdown, legal limits on social contact could be lifted by 21 June, if strict conditions are met.
The government outlined further details of its plans for a risk-based traffic-light system for international travel after the "stay in the UK" message comes to an end.
It said it would "help ensure the UK's vaccine progress isn't jeopardised and provide clear guidance for travellers".
International leisure travel will not be allowed until 17 May at the earliest.
After this point, travellers from countries in the green category will not have to isolate, although pre-departure and post-arrival tests will still be needed.
For countries assigned red and amber, restrictions would remain as they are now, with arrivals required to enter quarantine or self-isolation.
Downing Street said it was too early to predict which countries would be on which list over the summer.
The list of countries included in each category will be drawn up closer to the time, and the government continues to advise people not to book summer holidays abroad.
It added that more detail on international travel will be provided on Monday, along with information about a review into social distancing.
The review is examining how and when distancing requirements and the working from home guidance could be lifted and whether Covid certification could facilitate changes to the rules.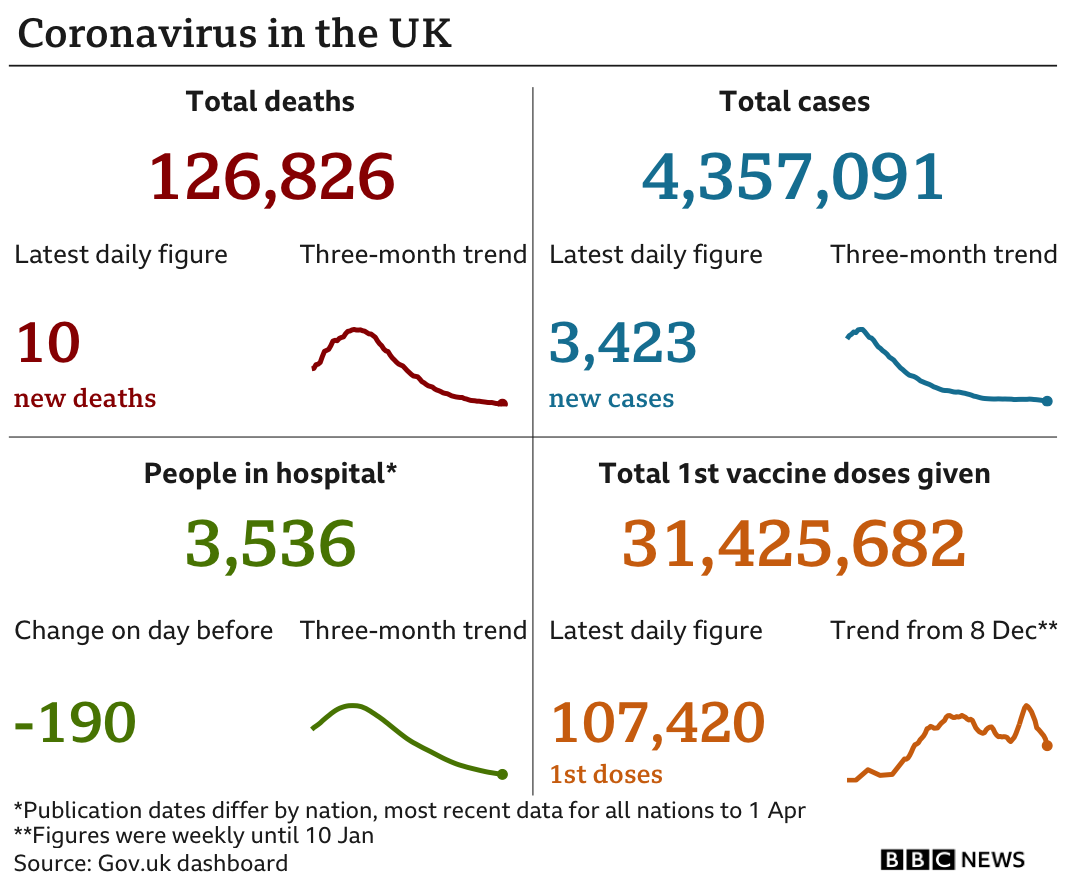 bbc