The departure gates at Bangkok's Don Mueang international airport are usually packed with travellers scrambling to catch their flights — to cities in China, Southeast Asia, and within Thailand.
Snaking queues were par for the course, be it at check-in, security, or even to use the toilets.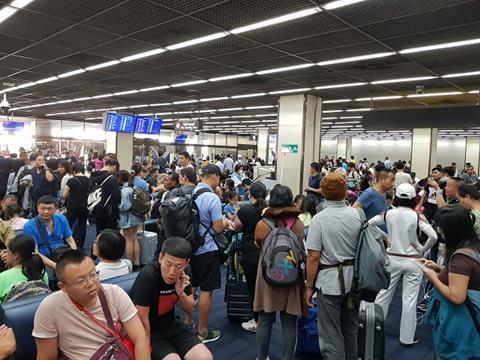 A departure lounge at Bangkok's Don Mueang Airport in September 2018
But for most of 2020 that scene has been a distant memory, as the airport hunkered down amid the coronavirus outbreak, which saw international and domestic travel restricted to curb the spread of the virus.
The once-ubiquitous traveller queues in the airport vanished, and the airport — like many others in the country — is now devoid of activity.
Don Mueang is not alone. Data from the Civil Aviation Authority of Thailand (CAAT) shows that from April, which was when the Thai government imposed strict travel restrictions in and out of the country, the number of international flights plummeted to levels unseen in recent history.
From January's more than 26,000 international flights at Bangkok's Suvarnabhumi airport, April only saw 2,711 flights, nearly all of them repatriation flights.
At Don Mueang, there were only 156 international flights in April, sharply declining from January's more than 9,000 flights.
Worst of the lot was the northern Thai city of Chiang Mai, which saw no international flights at all for the month.
In April, IATA estimated a pandemic-induced revenue impact of $8.4 billion for the Thai market. This placed it as the worst impacted Southeast Asian country, and among the worst hit in Asia beyond larger markets such as South Korea, Japan, India and Australia.
TROUBLE IN THE LAND OF SMILES
For the quarter ended 30 June, tourist arrivals into Thailand fell to an unprecedented zero, following the CAAT's travel ban in April.
As the country's tourist industry dried up, so too did its airlines' fortunes. Many saw their revenue evaporate overnight, amid travel restrictions imposed to curb the pandemic's spread.
Like their peers in the region, many carriers reported record losses.
Troubled flag carrier Thai Airways suffered an operating loss of Bt18.3 billion ($582 million) in the first six months of the year, widening the Bt7.9 billion operating loss it made in the same period last year.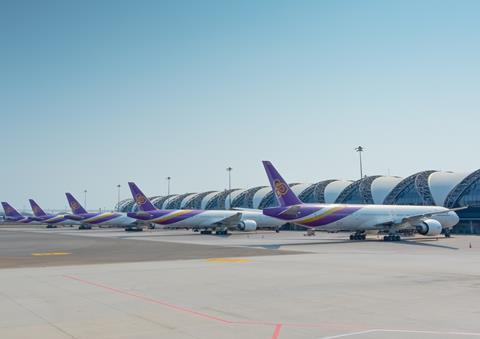 Thai Airways fleet at Bangkok airport in May 2020
It blamed a collapse in passenger travel demand from the coronavirus outbreak — as well as subsequent travel restrictions imposed both in Thailand and across the world — for a drop in takings.
Compatriot Bangkok Airways, which bills itself a "boutique carrier" and is heavily dependent on the leisure travel market, suffered similarly.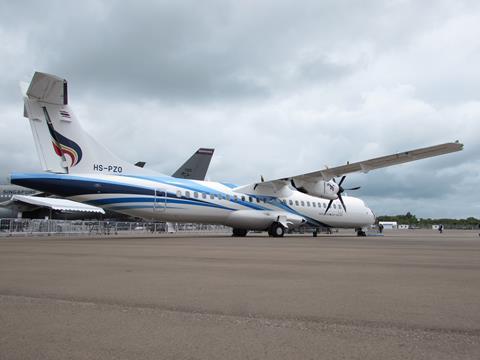 An ATR 72-600 of Bangkok Airways
Operating losses for the three months ended 30 June ballooned to Bt2.6 billion, up from an operating loss of Bt530 million a year earlier.
Among low-cost carriers, it is a similar story.Thai AirAsia parent company Asia Aviation saw its operating loss for the quarter ended 30 June more than double to Bt1.8 billion from Bt798 billion a year earlier. The carrier carried just 28,000 passengers in the second quarter compared with 5.6 million the same period a year earlier.
Casualties in the country's aviation sector came fast and furious. In May, Thai Airways, bogged down by mounting losses, filed for business rehabilitation.
Not long later, compatriot and low-cost carrier Nok Air followed suit.
Its chief Wutthiphum Jurangkool told the Bangkok Post that it did so to secure its financial status, as solely relying on domestic passengers will only account for 30% of its pre-pandemic capacity.
Even so, it will still suffer losses relying only on domestic flights, he told the paper.
The pandemic also claimed one victim, in the form of Nok's long-haul unit NokScoot, which collapsed in June, after seeing no path to recovery. The carrier disclosed that it had been operating in "very challenging circumstances since its inception in 2014".
Since then, seven Thai carriers — excluding Thai Airways — have petitioned the Thai government for soft loans totalling around Bt24 billion, to help them tide through the crisis.
The Bangkok Post reports that the Thai government is considering, in principle, extending a financial lifeline to the carriers, recognising that its airline sector was intrinsic to the country's development, particularly to its troubled tourism industry.
PANDEMIC EXPOSES TOURISM DEPENDANCE
The symbiotic relationship between Thai tourism and the airlines was evident in the carriers' second-quarter financial results, when they note how travel restrictions have crimped travel demand into the country. After all, Bangkok is the world's second most visited city. In 2019, tourism contributed nearly 20% of the country's GDP.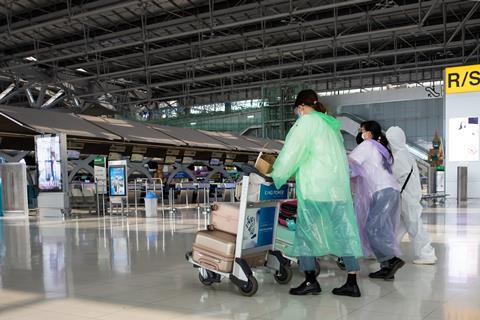 Thailand has been badly affected by a collapse in tourism demand.
As aviation analyst Shukor Yusof, founder of Endau Analytics, puts it: "Tourism is a double-edged sword for Thai carriers. While it has been a huge source of revenue, Covid-19 has exposed Thailand's dependence on tourists."
He tells FlightGlobal that Thai carriers "appear they are at a loss at what to do" amid the crisis, and also seem to be unable to adapt quickly to the changing landscape.
Joanna Lu, head of consultancy Asia with Ascend by Cirium, adds that intense competition, coupled with immense growth over the past decade or so among Thai carriers, have led to low yields in airline performance.
Yusof concurs: "Like other airlines in the South-east Asian markets, namely Indonesia and Malaysia, the Thai market has been hurt by over-capacity and brutal competition, which is a shame as Bangkok is the gateway to Indochina, a region with over 250 million people. The possibilities are endless."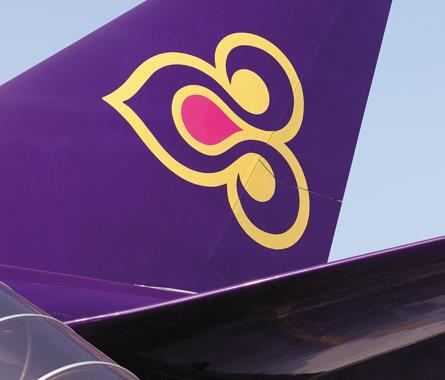 Thai Airways has filed for business rehabilitation.
The Thai government's offer of financial assistance is key in helping carriers survive the crisis, notes Ascend by Cirium analyst Eric Tamang.
"Options such as extending wage subsidies and corporate taxation relief measures, waiving or reducing charges and fees could be considered," he adds.
Yusof, however, disagrees, saying that he is doubtful the money would be sufficient to see the carriers through.
Given the bleak state the Thai airline industry is in, the analysts note there can be some avenues of opportunity.
Yusof says the crisis could be an opportune time for Thailand to rebuild its domestic aviation market, given that international recovery looks patchy.
Tamang, meanwhile, believes that airport operators in the country should take the opportunity to plan for future infrastructure. "While international capacity still has…greater uncertainty, it is probably time for the airport operators to prepare for planning their infrastructure for future as with other emerging South-east Asian nations, Thailand lags behind in infrastructure development," he adds.
Ascend by Cirum's Lu adds that it could be an opportune time to revisit the ASEAN Open Skies framework among Southeast Asian nations, which has been discussed but failed to gain much traction. This could help Thailand establish "travel bubbles" more efficiently with its neighbours, on top of efforts to do so with other countries like Japan and South Korea. 
Please follow and like us: