Emma learned how to approach many tricky circumstances when she trained to be a teacher, but dealing with pupils' questions about bestiality and strangulation was not one of them.
Reflecting on the written exercise, which invited the class to share their concerns about pornography in anonymous letters, she concludes: "They must have seen those things online or been sent them."
"I get the impression that a lot of this is being sent around on social media," she says.
Emma – not her real name – is among the many teachers who discussed how to tackle explicit online content and deal with its impact on children at the National Education Union (NEU) conference in Bournemouth on Wednesday.
The union will campaign for more training and tools to help schools talk to children about the effects of pornography, and for "consistent recording and reporting of incidents of sexual harassment" in schools.
Emma thinks there is a direct correlation between the pornography pupils come across online and the sexist language she hears them using in school.
"I have been called a bitch," she says. "Only once, by a male student, and I did find that very difficult."
Emma tries to encourage the 14 and 15-year-olds in her class to think critically about pornography and to discuss its potential impact.
She says girls can be more "withdrawn" than boys in group discussions, but some are vocal about the damage pornography can cause.
Singer Billie Eilish recently described how she suffered nightmares after being exposed to "abusive" pornography from the age of 11.
Emma says girls have spoken about feeling pressured to share intimate images and to engage in sexual acts.
Boys, meanwhile, have raised concerns that their bodies don't look like those they see in pornography and in sexualised images on social media.
"One of the things we had quite an extensive conversation about was the crossover between the way that porn is presented and masculinity – the notion of being a muscular man, a dominating man," she says.
Emma stresses that not all children will have seen or searched for porn, but she believes pornographic content is sent between pupils in school, despite strict phone policies.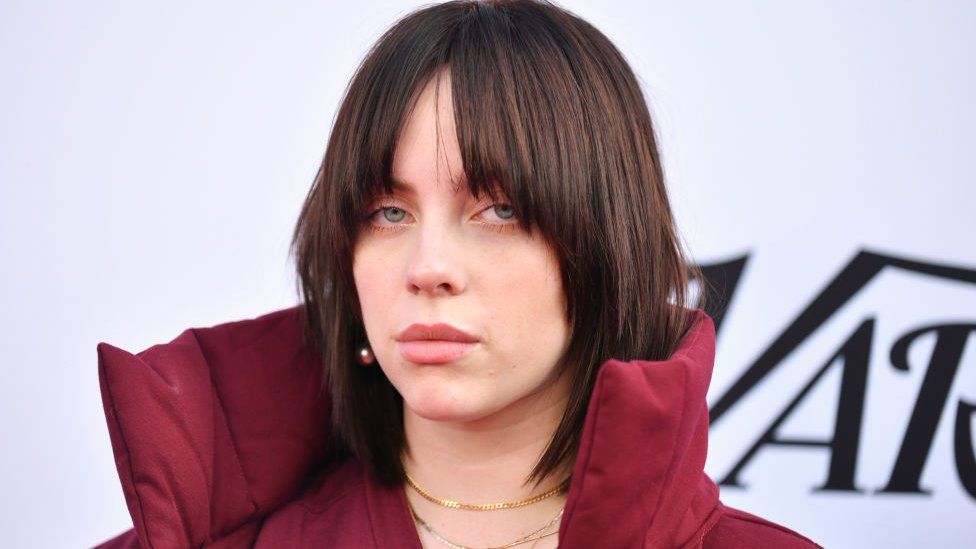 Sarah Byrne, a teacher in Hackney, told NEU members that the current Relationships and Sex Education (RSE) curriculum "seeks to narrow the kind of relationships and discussions we can have".
"Marriage is promoted actively more than once in the documents, parents are allowed to withdraw kids from sex education lessons, and faith groups are allowed to provide alternative presentations of RSE. The word 'fun' is not mentioned once," she said.
The union also says teachers delivering RSE should know the local community – enabling them to talk to parents about its importance.
Last year, Ofsted reported that nearly 90% of girls and almost 50% of boys said they or their peers had been sent pictures or videos of things they did not want to see "a lot" or "sometimes".
Misogyny experienced by teachers is also being discussed at the conference of another teachers' union – the NASUWT – this weekend.
Last week, a coalition of charities and organisations, led by the Centre to End All Sexual Exploitation (Cease), said the government's Online Safety Bill, which requires websites to verify their users' ages, did not go far enough to protect children from exposure to online pornography.
In an open letter, the coalition asked the prime minister to ensure that sites had age-verification measures in place within six months of the bill receiving Royal Assent, and for regulator Ofcom to be able to "commence business disruption measures" where there was not compliance.
Charities in the coalition work with people who have been affected by pornographic content, such as Jake – again, a pseudonym – who developed an addiction to pornography during his early teenage years.
When he married, he thought he would "no longer need pornography", but his addiction only became worse and he hid it from his family.
"I would wake up sometimes at night with the urge to view pornography," he said in a written testimony.
"Both the frequency and the degree of pornography increased and became worse, impacting my family more and more over time."
Jake has since overcome his addition with the help of therapists, coaches, friends and his wife.
Online pornography may have been available when Jake was at school – but advances in technology mean that it is now easier than ever to access.
Cease chief executive Vanessa Morse says one impact of pornography is "the prevalence of sexual harassment and abuse between schoolchildren", with young people inferring "that it is normal to treat others as sex objects".
"Boys report that it's the main way they know how to express their interest in a girl, and girls report that they feel under immense pressure to be OK with how they're treated," she says.
"Those who object are in danger of being labelled a prude or subjected to bullying."
A government spokesman said the Online Safety Bill went "further than any government in the world to protect children from online pornography" and meant any website accessible in the UK which hosted pornography would have to prevent children accessing it "or face serious sanctions".
He added that online safety was part of the RSE curriculum, and the government had published a support package for schools to " increase their confidence and the quality of their teaching
Please follow and like us: