NORTHEASTERN COOL: ISAAN SPIRIT FEST COMING TO BANGKOK
A spacious art venue in west Bangkok will host a weeks-long festival celebrating all things cool about Thailand's northeast.
More than just the country music that has entered the DNA of Bangkok culture, the Isan Spirit Festival will highlight art, food, fashion and lifestyle inspired by unique Isaan culture and custom.
The artists include Ubon Ratchathani singer-songwriter Rasmee Wayrana, aka Rasmee Isan Soul, who will perform her mix of mor lam and soul.
Best known for his Isarn Boy Soi 4 project shown internationally, Maitree Siriboon is back and will show his 2016 photography series Save Thai Buffalo. He will also live-paint a buffalo at the event (Don't tell PETA).
With the talent of makeup artist Amata Chittasenee, aka Pearypie, Khon Kaen textiles will be transformed into fashionable costumes. She will also share makeup techniques paired with traditional Thai costumes.
First known as a creative schoolboy from Khon Kaen, teen fashionista Madaew, aka Apichet "Madaew" Atirattana, will deliver a performance that goes beyond the wardrobe.
Expect a lot more about Isaan as well, from a parade of masked Phi Ta Khon ghosts and displays of hoon kra tip (sticky rice-basket puppets) to giant sand pagodas and traditional live performances.
Shop through stalls of Isaan fusion food, arts and crafts as well.
The Isan Spirit Festival will start April 13 and continue until May 6 at Changchui. The 11-rai art space, closed every Wednesday, is located near the Bang Bamru Railway Station on Sirindhorn Road in Bang Phlat district.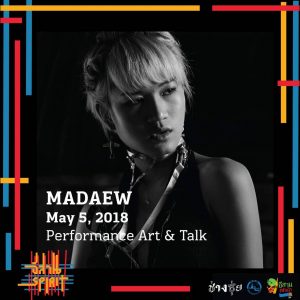 Please follow and like us: