About 60 people were evacuated from a tower block in east London after a large fire broke out.
More than 125 firefighters tackled the blaze at the high-rise block of flats and offices on Whitechapel High Street, in Aldgate East, on Monday afternoon.
Large flames could be seen fanning out of the 17th floor of the building and footage showed burning debris had fallen to the ground.
A 64m (210ft) ladder – Europe's largest – was used.
London Fire Brigade (LFB) said a woman had to be given "fire survival advice" until firefighters got to her as she was trapped on the 17th floor.
A fire escape hood offers up to 15 minutes protection from four of the main fire gases (carbon monoxide, hydrogen cyanide, hydrogen chloride and acrolein). They do not provide oxygen but temporarily filter toxic smoke to make breathing easier, LFB said.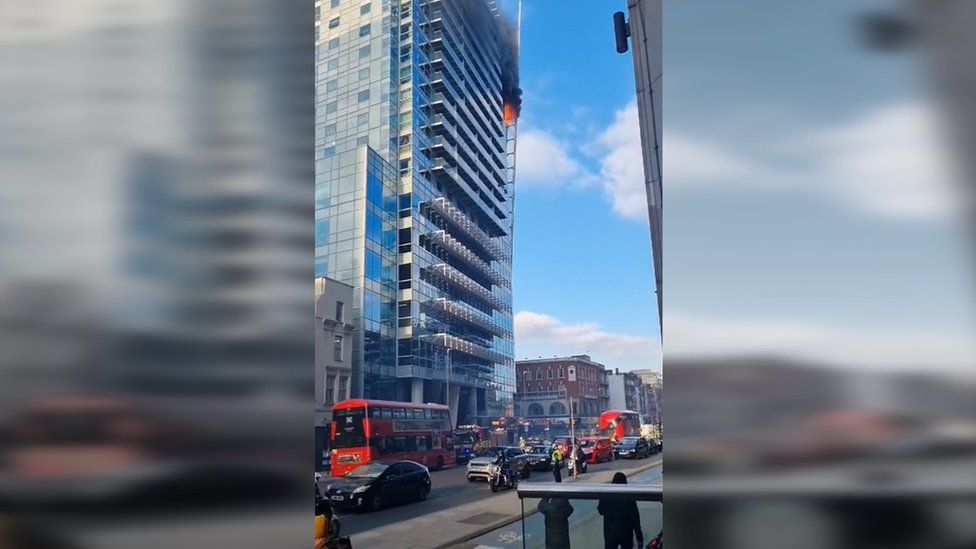 London Ambulance Service said two patients were taken to hospital while two others were checked over at the scene.
The blaze also affected balconies on the 18th and 19th floors.
It was put out by about 19:00 GMT, LFB confirmed.
Lynn Ling, 25, lives on the 20th floor of the tower block with her husband Yuri.
Ms Ling said: "I did not hear an alarm. I think there was a fire alarm on the ground floor but I could not hear it clearly on the 20th.
The fire service said the cause of the blaze was not yet known.
Mr Jennar said: "We mobilised a 64 metre turntable ladder to the scene. This is the tallest firefighting ladder in Europe and allowed us to get water on to the fire from outside the building.
"The professionalism, hard work and quick actions of control officers and firefighters limited the damage to the block and prevented serious injuries."
The building is a 22-storey mixed use development of commercial office space and 207 residential apartments, according to property developer Hondo Enterprises, which sold the building in 2018.
It is located over Aldgate East Tube Station between the City – the financial heart of London – and neighbourhoods Aldgate and Spitalfields.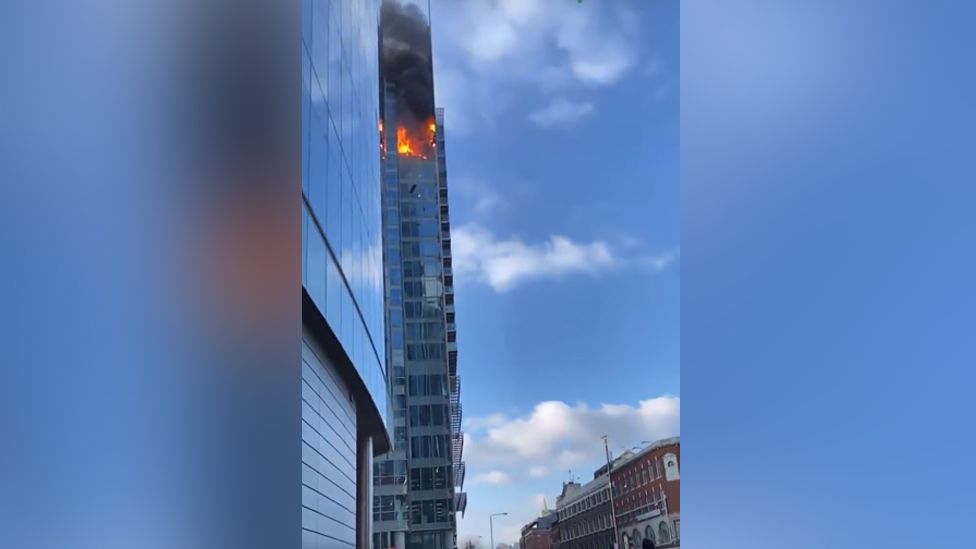 Please follow and like us: