A teenaged jogger found alive more than a day after she disappeared in north-west France has said she escaped a kidnapping.
The 17-year-old was found in a state of shock in a takeaway about 10km (six miles) from where she had gone running.
She suffered scratches and was taken to hospital after vanishing on Monday in the Mayenne region, east of Rennes.
French media said she had told police she had been held captive by kidnappers but managed to flee.
"It's a huge relief for her and her family. She was found in a kebab shop," said Nicolas Leudière, the mayor of Sablé-sur-Sarthe, where she eventually emerged late on Tuesday. The teenager goes to school in the same town.
Prosecutors had launched a kidnapping investigation hours earlier. A man was questioned but released without charge
The teenager, a regular runner who has not been named, left her home in the village of Saint-Brice for the local Bellebranche forest at around 16:00 on Monday.
Her father went looking for her after she failed to return home, and called the police three hours later. While searching his daughter's running route, the father found her phone and GPS watch, with traces of blood.
Investigators searching for the girl examined data from her Strava running app, which showed her jog had abruptly ended in a rural area after five and a half minutes in which she had covered over a kilometre. What happened next is unclear.
A search involving some 200 police officers, rescue dogs, divers and a helicopter was launched. But it was not until around 20:00 the following day that she next appeared at the takeaway in Sablé-sur-Sarthe.
News channel BFM-TV cited sources saying her first comments described being seized by "several kidnappers" before managing to escape. The Ouest-France website said she had left hospital on Wednesday afternoon and returned home.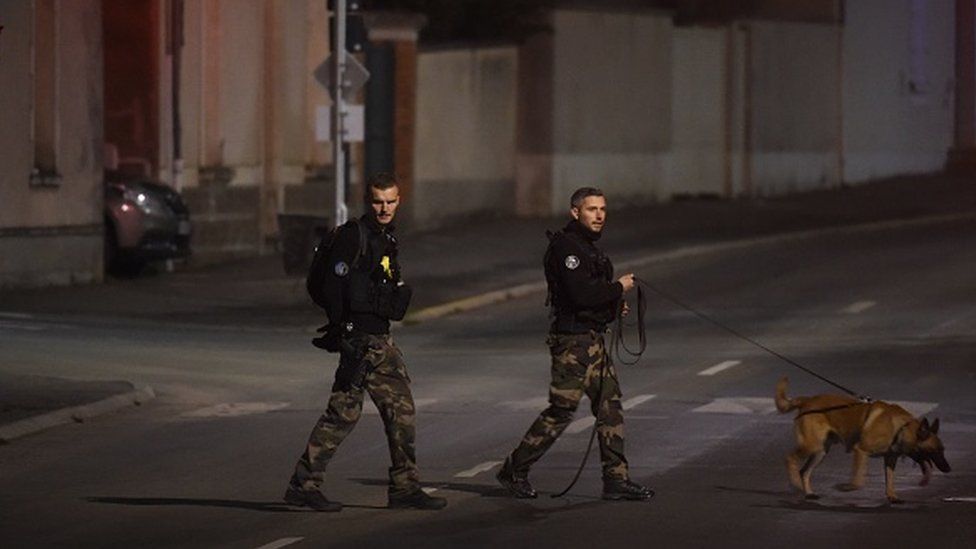 Prior to the teenager being found, local prosecutor Céline Maigné told reporters that she had opened a kidnapping inquiry but "no line of investigation" was being ruled out.
On Wednesday, Ms Maigné said a man detained while intoxicated on Monday evening had been released after being questioned over some inconsistencies in initial statements made to officers.
French media said the jogger was not able to identify her captors, nor the place where they attempted to abduct her.
Kebab shop owner Koksal Ciftci said his brother was in the takeaway when she came in late on Tuesday.
"She wasn't well. The girl had a bit of blood on her and she was in shock or traumatised," he told Ouest-France.
A witness told BFM-TV the teenager had "escaped from the vehicle of her kidnapper and found refuge" in the takeaway. Police were asking local shopkeepers if they had CCTV cameras running at the time.
Local prosecutors said investigations into the girl's disappearance would continue.
bbs
Please follow and like us: