Olympic wrestler Sushil Kumar has been arrested in Delhi in connection with the murder of a fellow wrestler.
The victim, Sagar Dhankhar, was beaten during a fight involving rival wrestlers at the capital's wrestling academy on 4 May, and later died.
Silver Olympic medallist Kumar, 37, then allegedly went on the run, travelling across India.
Kumar's lawyers said he was innocent and accused police of bias, according to AFP news agency.
Another wrestler involved in the fight at Chhatrasal Stadium, who has been receiving treatment for their injuries, identified the alleged attackers to officers, police said.
Police then launched raids in the Delhi region, and offered a $1,350 (£954) reward for any information leading to Kumar's capture
"We have recorded statements of all the victims and they all made allegations against Sushil Kumar," senior police officer Guriqbal Singh told Indian media.
Kumar won a freestyle wrestling silver medal at the 2012 London Olympics, and a bronze at Beijing four years earlier. He also won a world title, and gold medals at the Commonwealth Games.
Dhankhar, as well as being a former junior national champion, was the son of a Delhi police officer.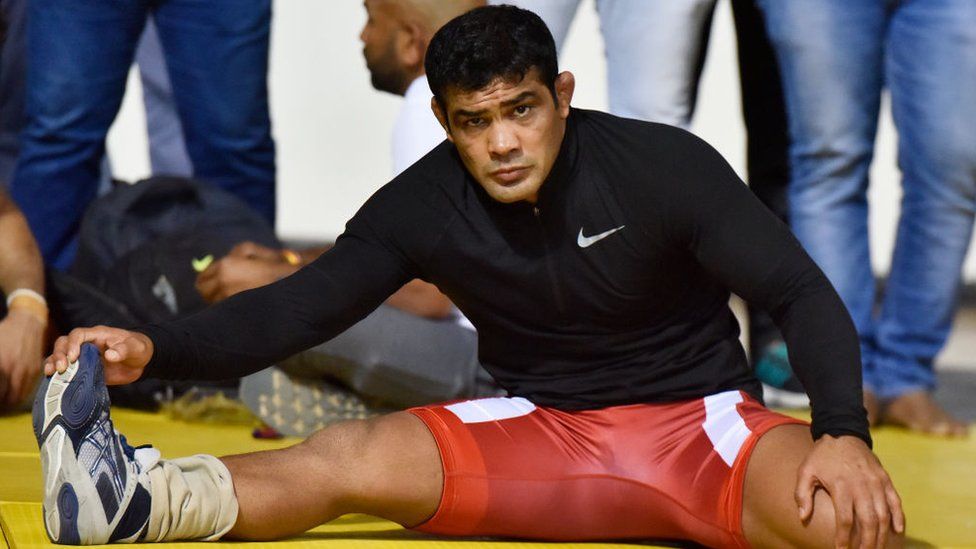 Delhi Police Deputy Commissioner Chinmoy Biswal also told AFP news agency: "We have maintained from the first day that [Kumar] should join the police probe, and present his case.
"If he hadn't gone on the run there wouldn't have been any warrants or reward for his arrest. Whatever he needs to say, he should come forward."
The Wrestling Federation of India (WFI) said the sport's reputation had been damaged by the case.
Vinod Tomar, secretary of the WFI, told reporters that Indian wrestling had been struggling to improve its name, as for a "long [time] wrestlers were known only as a bunch of goons".
This case is the second involving a murder in the Indian wrestling world in just months.
A wrestling coach, Sukhwinder Mor, is currently awaiting trial for the murder of five people in February, including a rival coach.
bbc
Please follow and like us: