Lewis Hamilton has extended his lead in the world championship to 24 points with victory in the Hungarian GP ahead of title rival Sebastian Vettel.
Despite pre-race expectations that Ferrari would boast superior pace in dry conditions, a dominant and faultless Hamilton cruised to victory, crossing the line almost 20 seconds clear of Vettel's Ferrari.
Vettel's ambitions of victory were thwarted by a slow pit-stop which cost him around two seconds and track position to Valtteri Bottas.
Vettel then collided with Bottas as he passed the Mercedes during an action-packed finale which also saw the Finn clash with Red Bull's Daniel Ricciardo.
Although the stewards ruled the Vettel-Bottas collision as a racing incident, the Finn was later handed a 10-second time penalty for the Ricciardo confrontation.
But the Australian had already overtaken the damaged Mercedes on the penultimate lap and Bottas' penalty didn't change his finishing position of fifth ahead of Toro Rosso's Pierre Gasly and Kevin Magnussen of Haas.
Fernando Alonso, Carlos Sainz and Romain Grosjean rounded off the points, with McLaren on course for a double-points finish before a late retirement for Stoffel Vandoorne.
Hamilton's lead of the championship standings, meanwhile, is the largest of the season so far.
"I really could only have dreamed that we would be in the position that we are in right now, considering all factors and based on our pure performance, where we stand compared to the Ferraris," said Hamilton.
Sky F1's Martin Brundle observed: "Mercedes out-drove Ferrari in a wet qualifying and have out-smarted them in a dry race."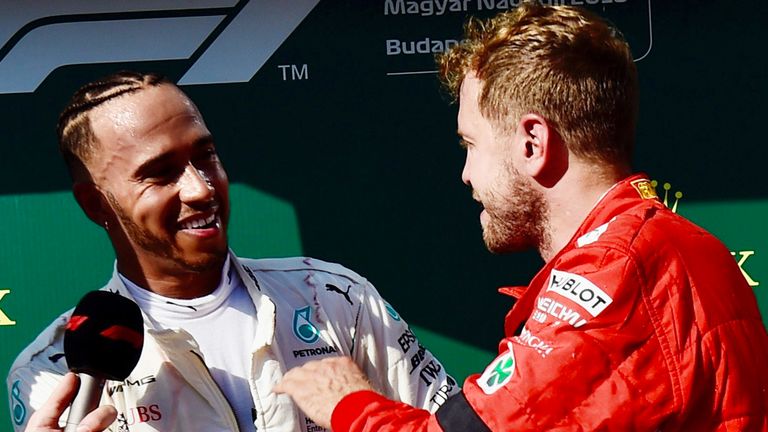 Slow start and slow stop ends Vettel's victory bid
Despite their double defeat to Mercedes in Saturday's wet qualifying hour, Ferrari remained many pundits' pick for victory when race day dawned dry and sunny.
But in the first of two critical moments that defined the race, Hamilton and Bottas made a faultless getaway to stay in control, while Vettel, starting on the slower soft tyres, had to fight off the Renault of Carlos Sainz before catching out team-mate Kimi Raikkonen at Turn Two.
As Hamilton surged clear, Vettel played a waiting game behind Bottas in the knowledge his tyres would out-last the Mercedes' ultrasofts.
And had Vettel emerged in front of Bottas from his stop then a fascinating battle may have emerged with the ultrasoft-shod Ferrari trying to chase down Hamilton.
But the plan unravelled when Vettel lost time in traffic and his Ferrari crew struggled to change his front-right tyre at his pit-stop, losing two seconds in the process, and the German returned to the track a second behind the Mercedes of Bottas.
Vettel then had to spend 25 laps of frustration tucked up behind the Finn before finally passing Bottas at Turn Two with five laps remaining. As the Ferrari inched ahead, the two cars collided, breaking Bottas' front-wing in the process, although Vettel's Ferrari was unaffected.
Struggling for grip, Bottas then clashed with Ricciardo. But the Australian was able to complete a clean pass for fourth position just before Hamilton completed his victory.