An improvement in third-quarter data and tourism limping back have not offset a surge in household debt, which hit 84 per cent of GDP in the second quarter
Experts fear worse is to come for Southeast Asia's second largest economy after the government ended a debt holiday for struggling individuals and small businesses
The bell at Siam Inter Auto (SIA) rings frantically, marking more than US$1 million in sales of second-hand cars – most sent to auction by banks clawing back what they can from Thais unable to make their repayments in an economy floored by Covid-19.From condominiums and cars, credit cards to mobile phones, bad debt is rushing through Thailand, and experts fear worse is to come for Southeast Asia's second largest economy after the government ended a repayment holiday for struggling individuals and small businesses.
Some of the consequences of this unprecedented economic collapse are parked in rows in the vast lot of SIA's suburban Bangkok warehouse, where potential buyers do a high-speed triage of repossessed cars as fast-talking auctioneers whip up bidding wars from two podiums.
SIA has its finger on the pulse of the Thai economy, according to Gai Nanthana, its genial executive vice-president, and the prognosis isn't good.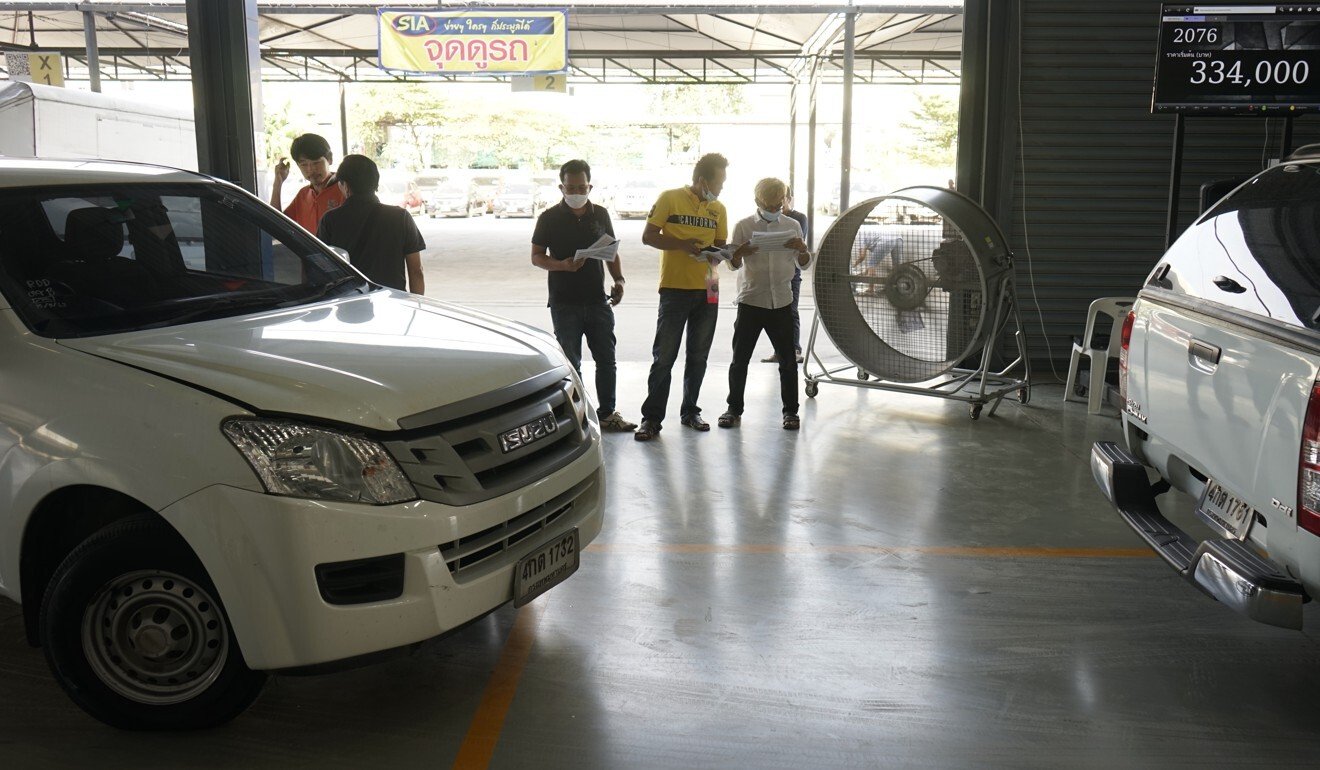 Potential buyers assess lists of second-hand cars at the SIA warehouse. Photo: Vijitra Duangdee
"We feel the economy. When things are good, our business is good as people sell their old cars and upgrade," said the 57-year-old. "When the economy is bad – we do better. It's very sad but bad debt forces people to sell … or downgrade, especially the middle class. Right now they are facing punishment. They can't make their payments."
Between January and September, SIA made around US$430,000, triple the same period last year.
Official data released on Monday showed that Thailand's economy shrank 6.4 per cent year-on-year in the third quarter, an improvement from the previous quarter's contraction of 12.1 per cent at the peak of the Covid-19 outbreak. The better-than-expected came as global lockdowns eased and the government's 1.9 trillion baht (US$62.9 billion) stimulus package began to feed into the economy, according to the National Economic and Social Development Council (NESDC).
The NESDC has also raised its full-year growth forecast to a 6 per cent contraction, after previously anticipating a drop of nearly 8 per cent. A dribble of foreign tourists have returned to the kingdom in the past few weeks as borders slowly reopen, and there are hopes a vaccine could reset global travel early next year.
But Thailand's economy remains in deep trouble as it faces what is expected to be its worst drought in 40 years, unemployment of around 1.9 per cent, and the United States' unpredictable approach to trade – which are set to compound the impact of Covid-19 and the political instability roiling the kingdom.
Thailand protests: How it all started
"These GDP statistics don't really mean anything to the real economy," said Virot Ali, international political economy lecturer at Thammasat University in Bangkok, "as they represent only those able to join government schemes and not the poor. If you look at the household debt, credit card debt, personal loans and all defaulted loans, they've risen to a record high."
Household debt hit nearly 84 per cent of GDP in the second quarter, according to the Bank of Thailand. Against this backdrop, banks and smaller lenders are still in a rush to repossess, while their fear of defaults on repayments have led to nearly half of all mortgage applications being rejected amid the pandemic, according to the central bank.
That has left up to US$30 billion of unsold properties across Bangkok alone, according to Thailand's Real Estate Information Centre.
Exacerbating the situation is the Bank of Thailand's decision late last month to end its blanket debt holiday for "the stability of the financial institution system" after 1 million small businesses deferred payments on around US$44 billion worth of loans – which experts say is likely to wipe out many small businesses that have staggered through to this point.
"Given the end of the debt moratorium, [small and medium-sized enterprises] – particularly in sectors that face an abrupt disruption, like tourism – are unlikely to have the financial resources to sustain their operations," said Pavida Pananond, associate professor of International Business at Thammasat Business School.
Thailand is also a split-screen economy, with the gap between rich and poor among the widest in Asia. That is set to get a lot worse, experts say, as major conglomerates – and the business clans who own them – scoop up distressed assets while small businesses are decimated.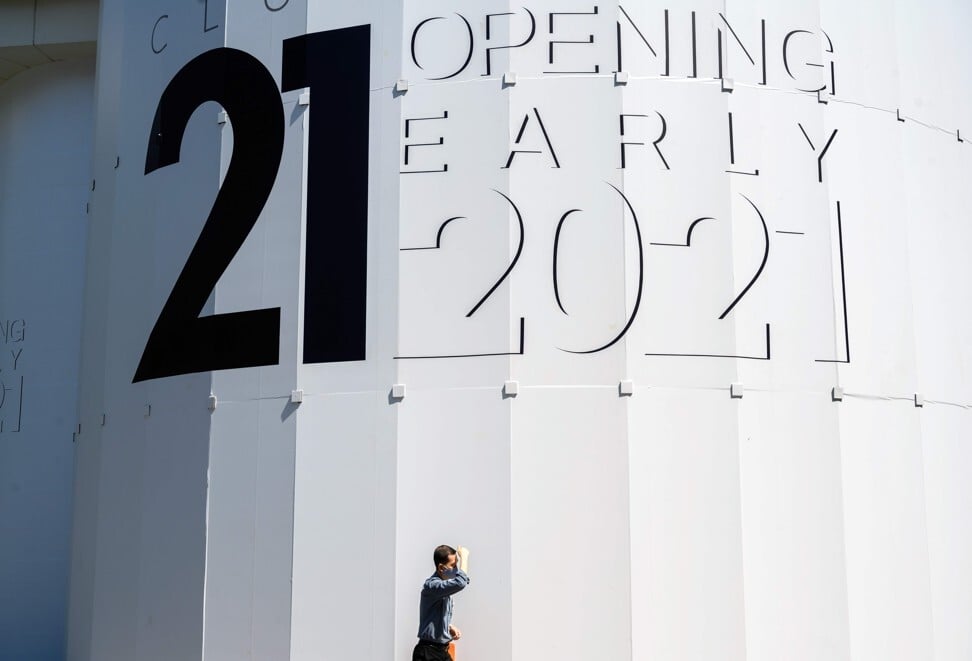 Thailand's economy is projected to contract by 6 per cent in 2020. Photo: AFP
Gai from SIA does not delight in the economic pain being inflicted on the country by Covid-19, which has spared Thailand's health system but hollowed out its tourist-facing economy. But he recognises the opportunities in a country obsessed with driving – there are 40 million registered cars and motorbikes on its roads.
"For Thais, cars are an essential part of life and society," he said. "Even if you don't have a television, you better have a car or a bike."
Nearly new family cars such as the Toyota Fortuner and the Honda Civic, which go for around 1.3 million baht (US$43k) at the showroom, are available from the auction house at discounts of 30-40 per cent.
"It shows what is happening," Gai said. "These latest models came out just two or three months ago and people are already unable to pay for them."
SIA's online sales have been driven by Facebook live streams hosted by company president Sittisak Mahasittivad, who draws customers by combining sales patter with an eclectic array of costumes.
And while the company is just one of those picking up the pieces of the debt crisis, the bargains it offers are good news for Thais looking to ride out the economic crisis.
"Luck was on my side. There's something for everyone here," said Sompote Hong, 51, who smiled as he explained how he had bought a pickup truck for less than his budget of 150,000 baht (US$5000).
With business booming, SIA has grand plans to expand, with an initial public offering on the horizon.
At the end of the sale in a now-depleted car park, Gai said: "Everything is gone, so I'm happy. By early next year there will be many, many more cars."
Please follow and like us: