Harrowing accounts of Rohingya women tied to trees and raped for days by Myanmar's military and men being pushed into mass graves, doused with petrol and set alight have been sent to the international criminal court.
The evidence has been sent by a coalition of Bangladesh organisations to ICC prosecutors who are pushing to investigate allegations of forced deportation from a country where it has no jurisdiction.
ICC judges met behind closed doors at the Hague this week to begin their discussions and documents seen exclusively by the Guardian will form part of the case for an investigation.
The legal argument for an ICC investigation is being led by prosecutor Fatou Bensouda, and it is the first time such a case has been considered by the court. While Bangladesh is a member state, which gives the ICC power to investigate crimes committed there, Myanmar is not, and denies any ethic cleansing was carried out against the Rohingya.
Bensouda argues the cross-border nature of the forced deportation of the Rohingya into Bangladesh means it could legally fall within the ICC's remit.
Myanmar has until 27 July to respond to the allegations and demonstrate that the ICC does not have jurisdiction over the Rohingya case.
The request is unlikely to be welcomed by the Myanmar government. On Wednesday, a social media account run by the office of Myanmar leader Aung San Suu Kyi quoted her berating "hate narratives from outside the country" which have fuelled tensions between Muslim Rohingya and Buddhist Rakhine communities.
More than 700,000 Rohingya have fled Myanmar since August 2017 following a campaign of violence carried out by the military, which saw villages razed, women and children raped and abused and tens of thousands killed. The mass killings have been described as both ethnic cleansing and as "having all the hallmarks of genocide" by the UN.
Gang raped, then left for dead
A document submitted to the ICC by the Asian Legal Resource Centre (ALRC) and its partner Odhikar, seen by the Guardian, included the story of Marwa, 10, whose family was shot dead before she, along with a group of other young girls from her village, were taken to nearby school where they were repeatedly gang raped.
Also in the submission was the account of Khurshida, 20, who described how she was held captive with several other Rohingya women, before being stripped, tied to trees and raped for days. Khurshida eventually lost consciousness and was dumped outside the camp by soldiers who assumed she was dead.
They also document the case of Sakila, 25, who hid as her family were locked inside a house that was set alight by soldiers, and Nur Jahan, 31, was raped violently and repeatedly in front of her seven-year-old daughter.
Other Bangladesh organisations have argued that the sexual and gender-based nature of much of the violence committed against the Rohingya is fundamental to the case and that ICC action should be taken to put the perpetrators on trial.
The ICC has been accused of racism in the past for focusing most of its efforts on African nations, and many believe the court is looking to create more balance by turning its attention to atrocities in Asia.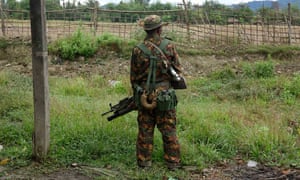 Sir Geoffrey Nice, who led the prosecution of Serbian president Slobodan Milošević at the Hague, believes the prosecutor's application will inevitably succeed.
"The ICC must be brave and accept it has jurisdiction and ensure these crimes are properly investigated" he said. "Anything otherwise would be a huge setback for justice and undermine the court's very authority. This is the only clear route available for the Rohingya. We all have a collective responsibility to ensure the perpetuators are held to account."
Human rights lawyer Wayne Jordash QC said the decision of the ICC judges would have crucial implications for the Rohingya people, who have no other legal recourse under current circumstances. "Will the court live up to its mandate to put end to impunity for such crimes against humanity?" he said.
Since you're here…
… we have a small favour to ask. More people are reading the Guardian than ever but advertising revenues across the media are falling fast. And unlike many news organisations, we haven't put up a paywall – we want to keep our journalism as open as we can. So you can see why we need to ask for your help. The Guardian's independent, investigative journalism takes a lot of time, money and hard work to produce. But we do it because we believe our perspective matters – because it might well be your perspective, too.
If everyone who reads our reporting, who likes it, helps to support it, our future would be much more secure.
Please follow and like us: