Lewis Hamilton will start Sunday's French GP on pole position after claiming the 75th pole of his F1 career at the Paul Ricard circuit.
Hamilton, one tenth quicker than team-mate Valtteri Bottas in a breathless conclusion to a session interrupted by a heavy crash for Haas' Romain Grosjean, will head an all-Mercedes front row for the race – exclusively live on Sky F1 and underway at 3.10pm.
"We have all pulled together and done a great job in putting the car where we need it, for both Valtteri and I," said Hamilton. "It's something we have been working on for so long. And the pressure is…you can see how close it is between us all. It's really, really great to have this result."
Boosted by the new '2.1' spec engine Mercedes have introduced this weekend, the Silver Arrows were untouchable in qualifying. After a scruffy Q3 lap, Sebastian Vettel was nearly four tenths adrift of Hamilton's 1:30.029 benchmark while the Red Bulls of Max Verstappen and Daniel Ricciardo were over half a second behind.
Vettel currently leads the world championship by a single point from Hamilton.
"I tried to push everything in the last attempt, but looking back, I pushed too hard," accepted the Ferrari driver.
"In the end with P3 I'm happy because the car should be good in the race."
But in a disastrous session for the under-pressure McLaren team, Stoffel Vandoorne and Fernando Alonso were eliminated at the first hurdle – the team's worst result in a season on the cusp of turning ugly. Powered by the same engines, the McLarens were almost 1.5 seconds slower than the Red Bulls.
Alonso, who was celebrating winning Le Mans just a week ago, described the result as "very disappointing".
The Spaniard added: "This is where we are. Nothing went wrong, the performance is what it is."
Leclerc puts more pressure on struggling Raikkonen
In an intriguing twist for Sunday's race, Hamilton along with Bottas and the Red Bulls of Max Verstappen and Daniel Ricciardo will start the grand prix on supersoft tyres.
The Ferraris of Vettel and Kimi Raikkonen, however, will get underway on the faster but brittle ultrasofts.
"I'm not really sure why they have gone with that tyre," Hamilton said. "They must be confident. Either they know something we don't or they have made a mistake."
While it remains to be seen to what extent the results of qualifying dictate the outcome of Sunday's race, it was day which could also have significant reverberations in the transfer market.
The increasingly-impressive Charles Leclerc propelled his Sauber into the top 10 with eighth – the team's best result in four years – to send talk of a 2019 promotion to Ferrari at the expense of Kimi Raikkonen into overdrive.
Raikkonen himself did little to dampen the speculation on track, lapping over a second shy of Hamilton and in excess of half a second behind Vettel.
The Finn shrugged off the setback but will surely need a rapid improvement in performance if he is to persuade Ferrari to look beyond the Leclerc's claims for a full race seat next year.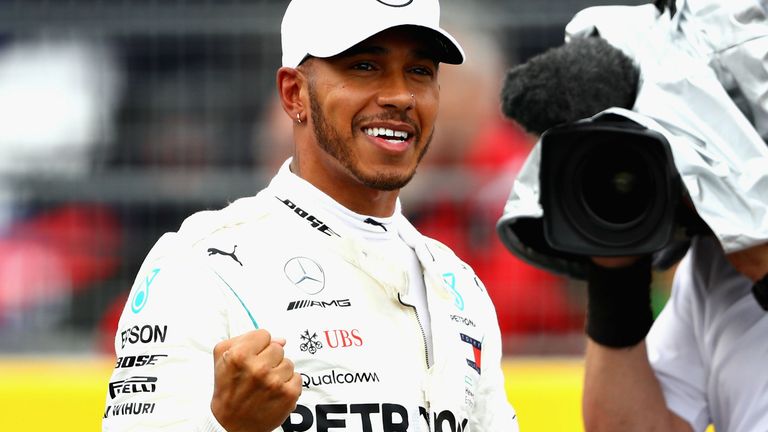 Hamilton delivers when it matters
Hamilton had topped both of Friday's practice sessions and has looked dialled-in to the Paul Ricard circuit throughout on F1's long-awaited return to France.
The world champion was fastest again at the start of Q3 but was then overtaken by Bottas when the shoot-out resumed following a red-flag stoppage for Grosjean's crash into the barriers.
But Hamilton made no mistake on his final run, crossing the line a tenth of a second quicker than Bottas to clinch a deserved pole.
Verstappen, running 'skinny' on downforce, could also be one to watch in Sunday's race with his car set up for overtaking opportunities.
Grosjean was unhurt in the crash and will line up tenth on Sunday, seeking his first points of 2018 in F1's first race on French soil since 2008.
French GP Qualifying result
| | |
| --- | --- |
| Driver | Team |
| 1) Lewis Hamilton | Mercedes |
| 2) Valtteri Bottas | Mercedes |
| 3) Sebastian Vettel | Ferrari |
| 4) Max Verstappen | Red Bull |
| 5) Daniel Ricciardo | Red Bull |
| 6) Kimi Raikkonen | Ferrari |
| 7) Carlos Sainz | Renault |
| 8) Charles Leclerc | Sauber |
| 9) Kevin Magnussen | Haas |
| 10) Romain Grosjean | Haas |
| | |
| Out in Q2 | |
| 11) Esteban Ocon | Force India |
| 12) Nico Hulkenberg | Renault |
| 13) Sergio Perez | Force India |
| 14) Pierre Gasly | Toro Rosso |
| 15) Marcus Ericsson | Sauber |
| | |
| Out in Q1 | |
| 16) Fernando Alonso | McLaren |
| 17) Brendon Hartley | Toro Rosso |
| 18) Stoffel Vandoorne | McLaren |
| 19) Sergey Sirotkin | Williams |
| 20) Lance Stroll | Williams |
Please follow and like us: