Facebook has announced it will roll out a series of audio features in the next few months.
This includes Live Audio Rooms, its version of the popular app Clubhouse that allows people to listen and participate in live conversations.
Audio-only networks have become increasingly popular during the pandemic.
Facebook will also launch a new feature, Soundbites, where users can create and share short audio clips.
The feature will be launched over the next few months, at first with a small number of creators.
Users will be able to make money in the Live Audio Rooms or with Soundbites, though it's unclear if this will be available to anyone or just reserved for creators with large followings.
Facebook will also allow users to listen to podcasts directly from the Facebook app.
Facebook boss Mark Zuckerberg made the announcement while speaking to journalist Casey Newton on Monday.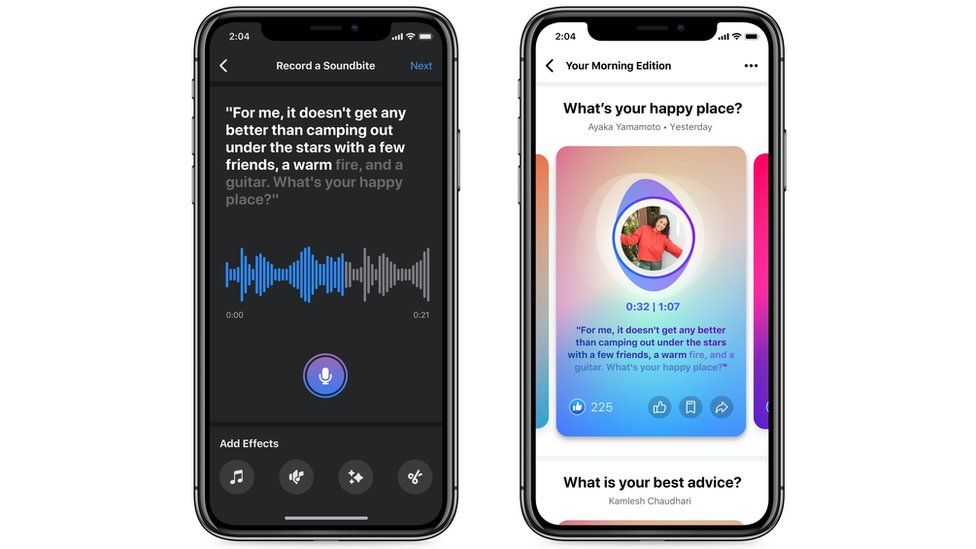 In a statement, Facebook's Fidji Simo said: "Audio seamlessly fits within our busy lives, allows us to be inspired by new ideas, and talk with other like-minded people without pressure.
It is unclear how Facebook plans to moderate the audio channels.
At around the same time Mr Zuckerberg announced Facebook's plans, Reddit announced Reddit Talk, its version of Clubhouse.
Anti-competitive
Mr Zuckerberg and Facebook have been accused of anti-competitive behaviour by the US Federal Trade Commission (FTC).
Last year, Mr Zuckerberg admitted to copying rivals, saying that Facebook "certainly adapted features that others have led in".
Instagram Reels, released last year, looks similar to TikTok. Instagram Stories, a feature released in 2016, was criticised as a rip off of Snapchat.
Critics argue that Big Tech's "borrowing" of ideas from smaller companies can stifle competition.
bbc
Please follow and like us: