An emotional Lewis Hamilton says beating Sebastian Vettel and the Ferraris to a record sixth British GP pole took "everything from me", in what he described as the "toughest lap I've had to do" in Formula 1.
On a day when English sport took centre stage internationally in a glorious F1 and World Cup double, Hamilton completed the first leg with a hard-fought pole at Silverstone, just as England's football team kicked off in their quarter-final clash with Sweden.
Then, just like at Silverstone, England triumphed in Russia too with the comfortable 2-0 victory to secure a first semi-final berth in 28 years.
For Hamilton, success at his home race has become an annual summer event – his pole on Saturday was an unprecedented fourth in a row. But having had to coming from behind in his Q3 battle with Vettel to pip the championship leader to pole by 0.044s, the Mercedes driver was visibly shaking in his post-session interview on the grid as the home Silverstone crowd chanted his name.
"It was the toughest lap I've had to do," he later told Sky F1.
"The pressure was beyond anything I've experienced before and I think the desire to pull it out, knowing that deep within me I've got it, but to absolutely extract it and pull it out of the car was harder than any other qualifying session I've experienced."
In a breathaking end to qualifying, the top three cars on the grid – Hamilton, Vettel and Kimi Raikkonen – were separated by less than a tenth of a second.
With team-mate Valtteri Bottas relatively out of sorts in qualifying, it was left to Hamilton to try and maintain Mercedes' long dominance of Silverstone qualifying and thwart the dual Ferrari threat.
The result was his 76th career pole and fourth in a row at his home race – but one which he admits produced a feeling like no other.
"It feels kind of night and day different," said Hamilton when asked to compare his 2018 British GP pole to his previous five.
"These guys [Ferrari] really pulled something special out of the bag in Q3. I don't know what they did yesterday, but they've come so strong today.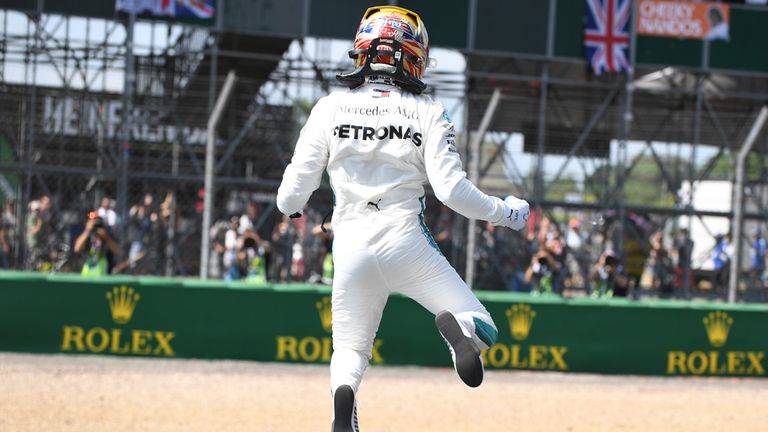 "I knew we were up against it and to put together the laps was the hardest I can remember it being. It's such a technical, tricky circuit and to position the car in the right places and maximise the tyres, it took everything from me to get it.
"The fans were there, I could see them so I really, really wanted with the pole to give a boost to England. Huge amount of pressure on today but so grateful for my team working so hard."
He added: "I was shaking through the emotion and the adrenaline rush. It was way above the limit that I'd experienced before, which is kind of crazy when it's my 76th. But my 76th is so special and I'm so, so happy."
With four wins at Silverstone in as many seasons, Hamilton has regularly been the standard-bearer during the British sporting summer but, with the England football team going so well in Russia, the Mercedes driver admitted he hoped his pole would kick off a super Saturday for the country.
"And I knew they were here so I really, really wanted to do it, and if anything, with the pole, give a boost to England maybe," he added. "They won't be watching obviously, because they'll be playing, but you know what I mean – maybe start the wave and let them continue it."
Please follow and like us: