Drunk tourists may not win insurance claims:
A man who fell and hit his head after "drinking all night" was correctly refused travel insurance cover, an ombudsman has said.
Yet, another man who slipped over in a nightclub's toilets after a drink while on holiday should have been covered.
The cases have been featured by the financial ombudsman to highlight the small print and rules surrounding travel insurance disputes.
It said tourists should not be expected to have been sober to win a claim.
The burden of proof was on the insurer to prove that too much drinking was to blame.
Booze-free holidays?
Many insurers have a clause in travel insurance policies that means cover is refused if the policyholder's accident was caused by excessive alcohol.
If the insurer refuses to pay for the medical expenses, the customer can appeal to the financial ombudsman to make an independent ruling.
The organisation looked at nearly 900 travel insurance complaints in the last three months of 2017, to highlight some of the issues involved.
"Insurers may choose not to pay out if they believe someone's been drinking excessively, although this doesn't necessarily mean holidays should be totally alcohol-free," said chief financial ombudsman Caroline Wayman.
"In each case, we'll need to carefully weigh up all the evidence to decide, on balance, whether the insurer has made the right call.
"Encouragingly, compared with recent years, we're generally upholding fewer travel insurance complaints. This suggests, while there is still clearly work to do, that many insurers are increasingly treating their customers in a fair and reasonable way."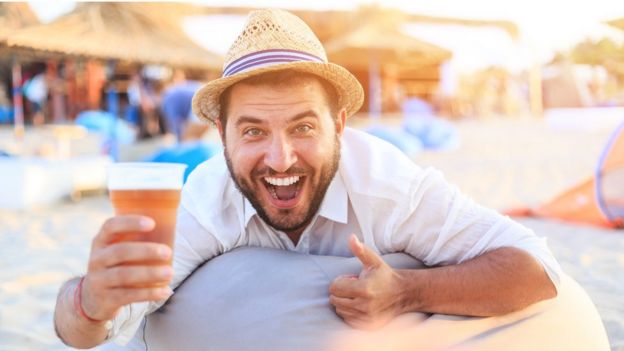 In the nightclub case, the ombudsman told the insurer to pay up for a man's medical treatment costs. The man said he had been drinking, but that he was not drunk at the time.
The ombudsman decided that, on balance, it did not think the evidence showed it was more likely than not that excessive alcohol consumption had caused his accident.
However, in the other case highlighted, an insurer sent the ombudsman medical records showing the emergency doctor diagnosed the injured man with "acute alcohol intoxication".
These records also said he had not been able to sign a form when he arrived at the hospital, and other records made during his ambulance trip suggested he had said he had been drinking all night.
'Out of control'
The ombudsman said figures show more than 21.9 million people from the UK went on summer holidays abroad in 2017.
Overall there were 3,000 complaints about travel insurance made to the ombudsman last year. It ruled that the insurers had not treated their customers fairly in nearly four in 10 cases.
A spokeswoman for the Association of British Insurers (ABI) said: "Travel insurance is a lifeline for people who run into trouble overseas, with insurers paying out more than a million pounds every day.
"More than half of this funds emergency medical treatment for people who have been badly injured or have fallen seriously ill. As with any insurance, customers do have a responsibility not to behave recklessly.
"Insurers know people will likely want to drink alcohol while they are on holiday and they don't expect you to stay sober all the time, but there is a danger of invalidating your cover if you drink so much that it makes you act dangerously or means you are out of control."
Overall, the financial ombudsman handled 81,647 new cases on a variety of subjects between October and December. The majority (54%) were complaints about the mis-selling of payment protection insurance.
Please follow and like us: