Dimitri Payet was hit by a bottle and threw it back into the crowd before fans stormed the pitch causing Nice v Marseille to be abandoned.
Marseille's Payet was struck in the back by a bottle thrown from the home supporters as he went to take a corner.
He launched it back, leading to fans pouring on to the pitch as stewards and players struggled to restrain them.
After a long delay, Nice's players came out to finish the game – but Marseille's players refused to.
The game was abandoned as a result. Nice were leading 1-0 through Kasper Dolberg's first-half goal.
Some of the Marseille players were reportedly injured in the trouble.
"Our players were attacked," said Marseille president Pablo Longoria.
"We decided for the safety of our players, who were attacked during the pitch invasion, not to resume the match because the safety of our players was not guaranteed."
The chaos continued as the players tried to leave the pitch, with scuffles breaking out and Marseille coach Jorge Sampaoli having to be held back by his staff.
Marseille players had been targeted by plastic water bottles from that section of the crowd throughout the match, before one hit Payet and saw the midfielder fall to the ground.
In the melee that followed, team-mates Alvaro Gonzalez and Matteo Guendouzi ran towards the end of the ground to face down the fans and Nice skipper Dante then attempted to calm angry supporters.
A security cordon of stewards tried to stem the pitch invasion before a brawl broke out between players of the two teams, supporters and staff.
Players and officials eventually made it off the pitch and back down the tunnel away from the chaos outside.
It comes after Marseille's opening 3-2 win at Montpellier two weeks ago was also held up when fans pelted the pitch with bottles.
That game was halted in the 89th minute after Marseille substitute Valentin Rongier was hit on the head and Montpellier's Florent Mollet was also hit as he prepared to take a corner.
Citing that game a fortnight ago, Longoria added: "This is the second time it's happened. We have already experienced this in Montpellier where we decided to continue after the decision to carry on was made.
"What happened today is unacceptable. We must make it a precedent for French football and that's why we decided to return to Marseille."
However, Nice president Jean-Pierre Rivere, who had appealed for calm over the stadium's public address system during the delay, felt some blame for the scenes lay with Marseille.
"It's disappointing that the game ended like this," he said.
"Everyone saw what happened. We can't deny that water bottles were thrown because we could all see it. What ignited the clashes was the reaction of two Marseille players who retaliated.
"Afterwards, it is deplorable that the Marseille security staff intervened on the ground and hit our players."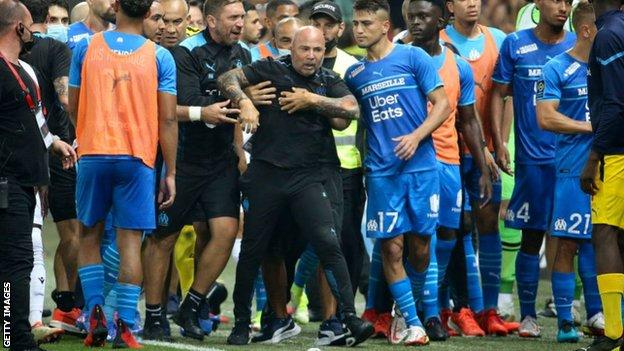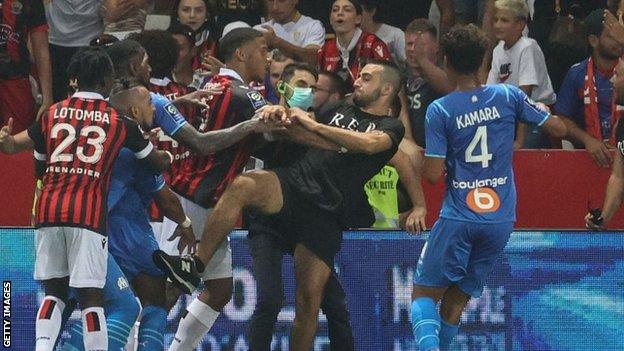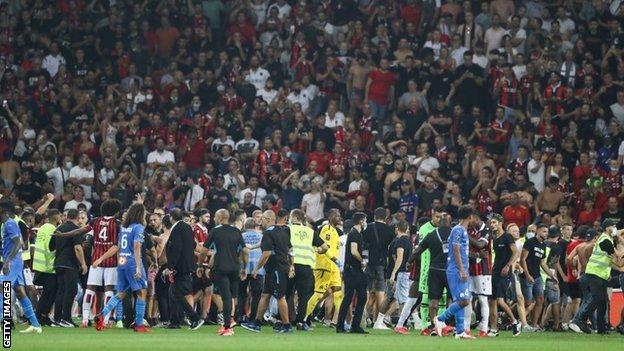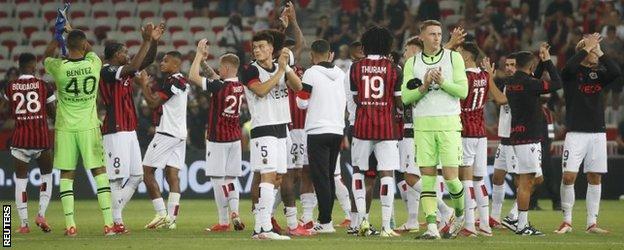 Nice
Formation 4-4-240Benítez20Atal25Todibo4Costa Santos26Bard28Boudaoui8Rosario18Lemina21Kluivert9Dolberg11Gouiri
40Benítez
20AtalSubstituted forLotombaat 6'minutes
25Todibo
4Costa Santos
26BardBooked at 69mins
28Boudaoui
8Rosario
18LeminaBooked at 15minsSubstituted forThuram-Ulienat 71'minutes
21KluivertBooked at 66mins
9DolbergBooked at 63mins
11Gouiri
Substitutes
1Bulka
5Daniliuc
7Maolida
13Kamara
14Ndoye
19Thuram-Ulien
23Lotomba
29Da Cunha
33Smith
Marseille
Formation 3-2-4-130Mandanda2Saliba14Peres Petroni3González22Gueye6Guendouzi4Kamara8Santos da Silva17Ünder10Payet11de Lima
30Mandanda
2Saliba
14Peres PetroniBooked at 71mins
3González
22GueyeSubstituted forRongierat 57'minutes
6Guendouzi
4KamaraBooked at 3mins
8Santos da Silva
17Ünder
10Payet
11de LimaSubstituted forDe la Fuenteat 56'minutes
Substitutes
1Ngapandouetnbu
12Dieng
20De la Fuente
21Rongier
23Amavi
26Targhalline
34Sciortino
39Nadir
Referee:Benoît Bastien
Please follow and like us: