The resignations of a police chief and of an officer who shot dead a black motorist in Minnesota have failed to end unrest over Sunday's killing.
Chief Tim Gannon and Officer Kim Potter have quit the Brooklyn Center force.
Mrs Potter said she shot Daunte Wright accidentally, having mistakenly drawn her gun instead of her Taser, a stance backed by Mr Gannon.
Despite the resignations fresh clashes between police and protesters erupted for a third night.
Mr Wright's mother has been speaking about her last phone call to her son. In tears, she told reporters she could never have imagined he would be killed.
The death happened in a suburb of Minneapolis, a city already on edge amid the trial of a white ex-police officer accused of murdering African American George Floyd.
On Tuesday night bottles and other projectiles were thrown at the Brooklyn Center police headquarters and officers responded by firing tear gas, stun grenades and rubber bullets.
More than 60 people were arrested, Minnesota State Patrol Colonel Matt Langer told reporters.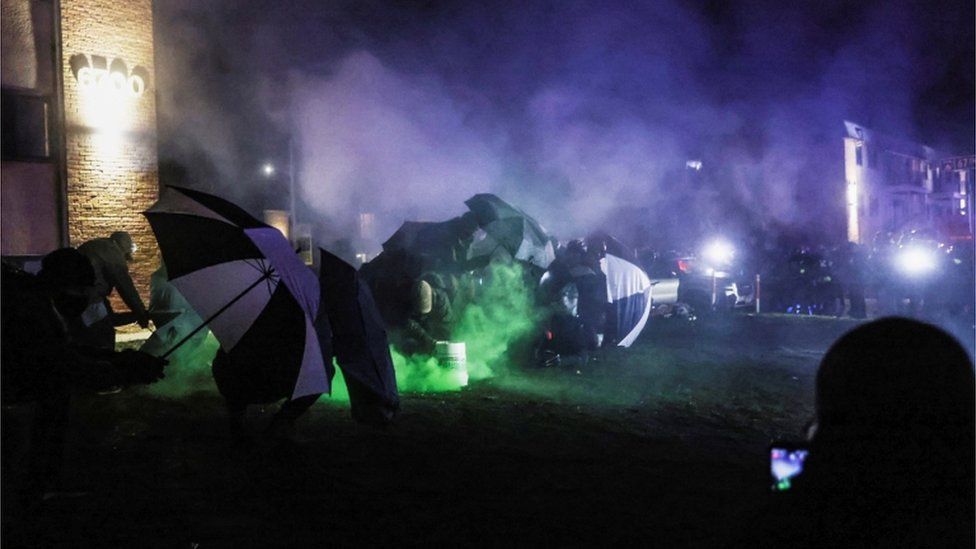 Another demonstration broke out in Portland, Oregon, on Tuesday night, with about 100 protesters marching on the Portland Police Association Building.
Flames were seen coming out of the side of the police building about an hour later. The Portland Police Bureau declared the gathering a riot.
Portland was the centre of mass demonstrations last year, in the wake of the killing of George Floyd.
Speaking to reporters earlier, Brooklyn Center Mayor Mike Elliott said that he had appointed 19-year veteran Tony Gruenig to take over for Tim Gannon.
On Monday, Mr Gannon had said that the shooting of Mr Wright appeared to be an "accidental discharge" after Mrs Potter mistook her service pistol for a stun gun.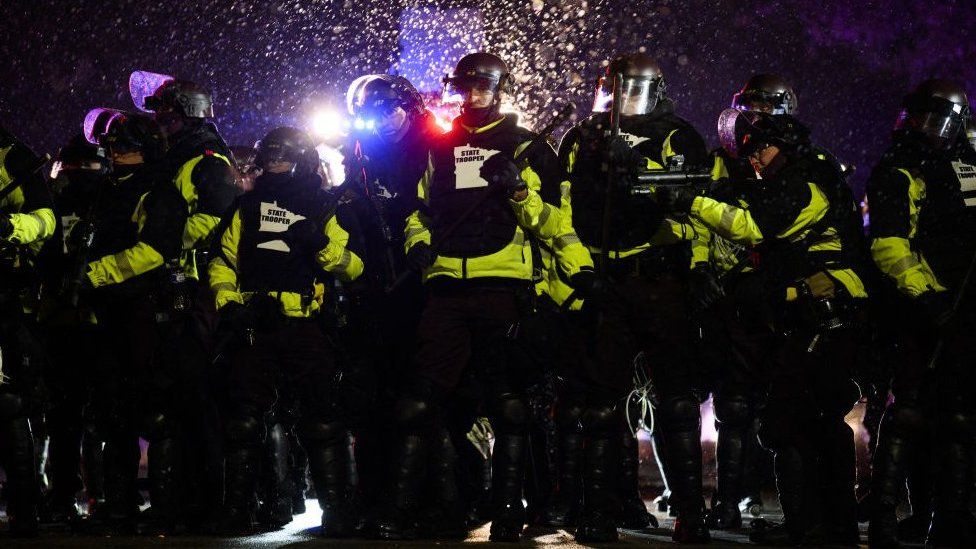 "I appreciate the officer stepping down," the mayor said, adding that he hoped her leaving would "bring some calm to the community".
He said the city had intended to fire Mrs Potter. "We want to send a message to the community that we are taking this situation seriously," he added.
Meanwhile, prosecutors are expected to decide whether to charge Mrs Potter on Wednesday, the Associated Press reported.
"We have to make sure that justice is served, justice is done. Daunte Wright deserves that. His family deserves that," Mr Elliott said.
The Wright family have spoken of their ordeal on the night Daunte was killed, holding a news conference near the courthouse where police officer Derek Chauvin is standing trial for George Floyd's murder.
In an emotional speech, his mother Katie described what she said was the worst day of her life.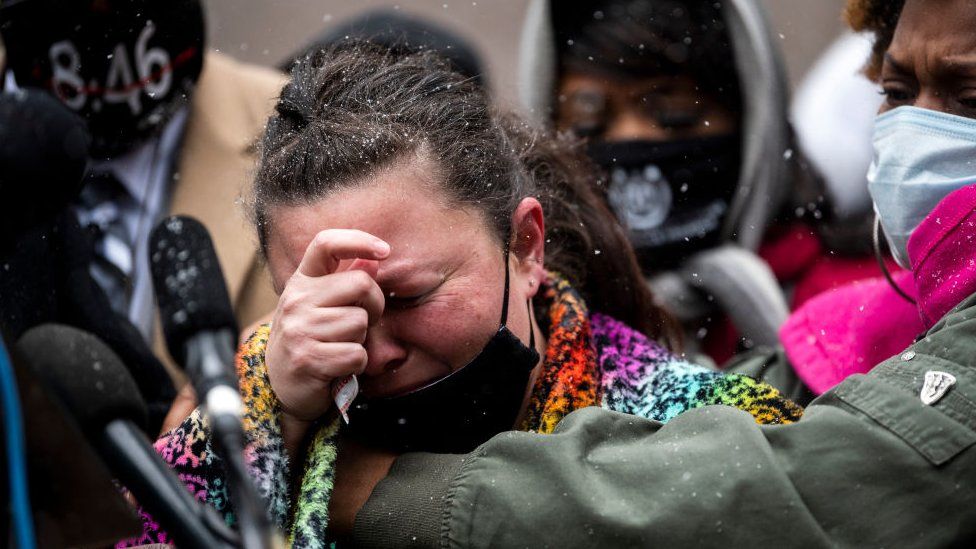 She said her son called her after he was pulled over, and that she offered to give insurance details to police over the phone.
She said she heard police order him to get out of the vehicle. There was a scuffling sound and an officer told him to hang up the phone.
When she was eventually able to call back, his girlfriend answered and told her he had been shot.
"She pointed the phone toward the driver's seat and my son was laying there, unresponsive," she said in tears.
"That was the last time that I've seen my son."
The family were joined by relatives of George Floyd and by Ben Crump, a lawyer who is representing both families.
Mr Wright's father, Aubrey Wright, told ABC News he did not believe Mrs Potter – a 26-year police veteran who trained other officers – mistook her gun for her Taser.
"I lost my son. He's never coming back. I can't accept that," he said.
A victory for protesters in Brooklyn Center
At the scene – BBC's Tara McKelvey
Upon hearing the news that the police officer who shot Daunte Wright had resigned, along with the police chief, Amber Young, a food services co-ordinator at a Salvation Army in Minneapolis, said she had two reactions.
She was glad but felt the announcements should have come sooner.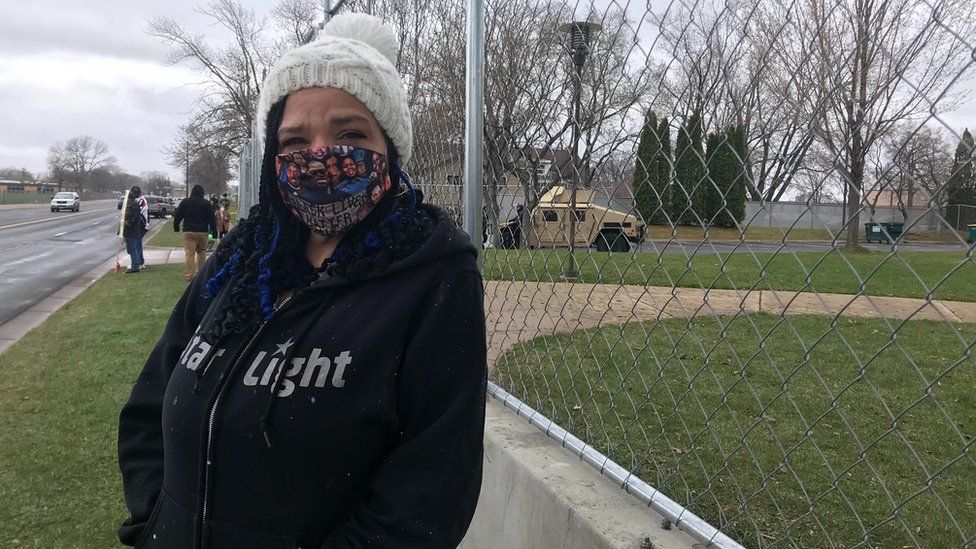 Standing outside the Brooklyn Center police department, she described how upset she had been with the actions of the police.
"She should have been fired," said Ms Young, referring to the police officer. "Her resignation should not have come before [that]."
When it comes to the police chief, she said simply: "I'm glad he's gone. He showed no concern for the community."
Mr Wright was pulled over for an expired tag on his car licence plate. Family members and advocates say he was racially profiled.
Police released body camera footage on Monday showing Mr Wright fleeing from officers after they told him he was being arrested for an outstanding warrant.
As Mr Wright re-enters his car, Officer Potter is heard shouting "Taser" several times before firing a shot.
In a one-sentence resignation letter to city officials. Mrs Potter wrote that she "loved every minute of being a police officer… but I believe it is in the best interest of the community, the department, and my fellow officers if I resign immediately".
bbc
Please follow and like us: