Army block civilian inquiry into death of young cadet
A defense ministry spokesman said Friday that an independent inquiry into the death of a 19-year-old military cadet is not necessary as the armed forces is already in charge of the matter.
As a war of words escalates between the dead teen's father and top defense official over the death and subsequent handling of 19-year-old Pakapong Tanyakan's remains, calls for civilian agencies to investigate how he died at an elite military academy were dismissed by spokesman Kongcheep Tantravanich.
"Please be confident in the impartiality of this investigation," he said Friday, adding that a committee has already been convened to review the cadet's death.
Pakapong, whose body was initially returned to his family with vital organs missing, died during training in October. Organs were returned to his family on Thursday after outraged responses to the military's dismissive response to the family's suspicions?
The remains are being tested to verify they came from Pakapong at the Central Institute of Forensic Science, which will conduct further forensic examination to determine his cause of death. The institute is independent of the military and police.
The military maintained Pakapong, who was enrolled at the Armed Forces Academies Preparatory School, died of sudden heart failure. His family suspects a more sinister cause, as his body was returned with bruises and broken ribs.
Pakapong's death drew wide attention not only because he was the latest young man to die under suspicious circumstances in military training, but also because his family discovered that his cadaver was missing several internal organs. They only realized the gruesome fact after suspicions led them to take the body in secret to a private hospital for examination.
'Did My Son Have to Die?'
When the family received his organs Thursday at Phramongkutklao Hospital, Pakapong's father Pichet Tanyakan lashed out at deputy junta chief Prawit Wongsuwan for suggesting that hazing, punishment and death are to be expected in the academy.
"Don't join up, then," Gen. Prawit, who is the second most powerful member of the ruling junta, quipped to a reporter who asked him how similar fatalities could be avoided in the future.
"He [Prawit] didn't respect me at all," Pichet said to an army rep at the morgue Thursday. "Does his mom have to stand here and cry in front of reporters every day?"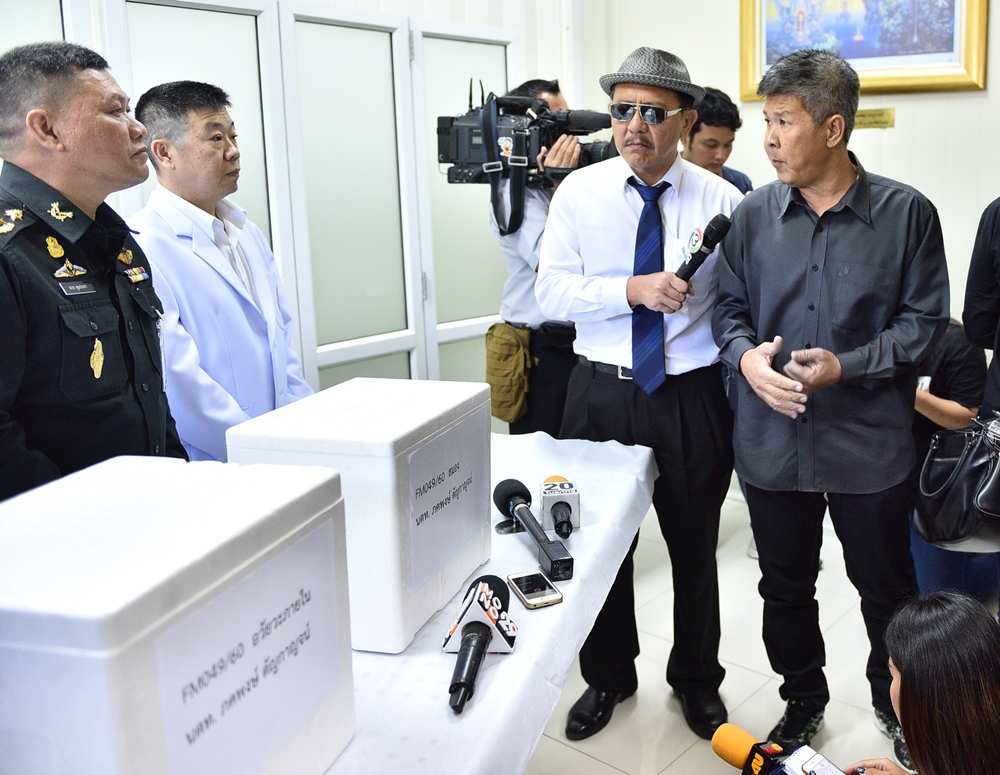 He continued, "My son ate, slept, studied and exercised at the academy. Did he have to die for that?"
Pichet grew increasingly agitated and had to be restrained by his wife.
Junta chairman Prayuth Chan-ocha at a Thursday news conference excused his deputy's remark as being made in anger because reporters were frustrating him with questions.
Prawit declined to speak to reporters today.
Source: Khaosod
Please follow and like us: