Now it's 7 luxury watches for Thai deputy PM
The daily drip-drop, tick-tock revelations about a top junta official's collection of spendy watches continues with a sixth and seventh timepiece spotted.
By Friday, amateur sleuths had discovered two more luxury watches worn in past photos by Gen. Prawit Wongsuwan, the junta's second-in-command who also serves as defense minister and deputy prime minister. In the three weeks since the first multi-million baht watch was spotted earlier this month, the general has refused to answer questions about the bling timepieces, none of which were listed in his mandatory asset disclosure filed upon taking office.
Today the crowd-sourced CSI LA page identified a seventh watch as a Patek Philippe Grand Complications, model 5140J-001 in yellow gold. It starts at retail for 2.9 million baht. Patek Philippe says the Yellow Gold variety was a limited edition no longer in production. Some disputed the claim, saying it was in fact a Patek Philippe Gold Perpetual Calendar 3970, which retails for 3.6 million baht.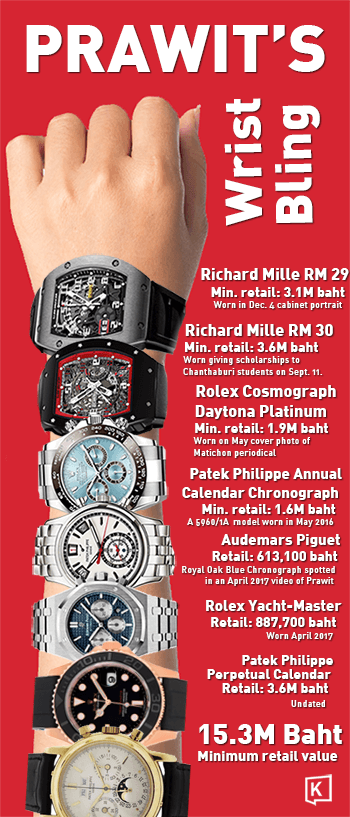 Prawit was seen wearing what appears to be the watch in a file newspaper file photo this past April.
That discovery came a day after a sixth fancy watch was identified by the page as a Rolex Yacht-Master with automatic black dial and an 18 karat Everose gold black rubber strap. The model retails for a relatively modest 887,700 baht at Central Chidlom. The Rolex was seen another April story announcing the general's appointment to the presidency of the National Olympic Committee of Thailand.
Despite 72-year-old Prawit's possession of what seems to be closing on at least 15 million baht's worth of high-end wrist accessories, there was skepticism that potential wrongdoing would be properly investigated and punished if found.
"We can't touch him," Facebook user Akkarapol Prabpech commented one of the the CSI LA posts. "We just have to wait for his blood vessels to clog up his arteries and diabetes to eat him up."
Prawit, a career military man, was given until Jan. 8 by the National Anti-Corruption Commission to explain how he came into possession of the expensive items.
Source: Khaosod
Please follow and like us: